PM tells Dion join military or don't criticize O'Connor
(May 31, 2007)

Prime Minister Stephen Harper told Liberal leader Stephane Dion in the House of Commons Thursday that until he puts on a military uniform he won't care about his opinion of embattled Defence Minister Gordon O'Connor.

RCMP investigating government email scam
(May 31, 2007)

The federal government has asked the RCMP to investigate an email scam using a fake government Web site to trick recipients to provide personal information.
Opposition leaders want PM to throw away obstruction playbook
(May 28, 2007)

MPs returned to Ottawa Monday with Liberal leader Stephane Dion and NDP leader Jack Layton demanding Prime Minister Stephen Harper denounce a recently-leaked playbook for Tory MPs on how to obstruct committees.
Arniemania comes to the Hill
(May 30, 2007)

California Governor Arnold Schwarzenegger received a rock star welcome during a one-hour visit to Parliament Hill on Wednesday. Schwarzenegger spent most of his time meeting privately with Prime Minister Stephen Harper.

Related Link: Governor Arnold leads trade delegation to Canada
Cup fever strikes Parliament Hill
(May 28, 2007)

Parliament Hill is not immune to the excitement sweeping across the nation's capital for the Stanley Cup final between the Ottawa Senators and Anaheim Ducks.
To prorogue or not to prorogue
(May 25, 2007)

Speculation is rampant in Ottawa that Prime Minister Stephen Harper will prorogue Parliament in the coming days after the budget implementation bill is passed. Read more about this and what's happening in the House in PoliticsWatch's weekly Legislative Update feature.
MP blasts Mulroney for pro bank merger remark
(May 24, 2007)

An NDP MP tells PoliticsWatch that former prime minister Brian Mulroney's recent comments supporting bank mergers was unbecoming of a former Canadian PM.
Five simple rules from an unwritten Tory playbook
(May 23, 2007)

Declaring historic victory when you lose and questioning opponents' patriotism are just two of the unwritten rules from the Conservative playbook on Parliament Hill.
Washington considers Internet pharmacy crackdown
(May 22, 2007)

The U.S. Senate is currently looking at legislation to crackdown on so-called rogue Internet pharmacies that make it easy to purchase addictive prescription drugs. The bill is creating concerns in Canada about the potential impact on legitimate Internet pharmacies.



Harper and the memory eraser
(May 18, 2007)

Prime Minister Stephen Harper's revision of the Shane Doan controversy and his government's suggestion that the opposition parties were largely to blame for problems in committees took political spin to a new level this week.


MPs take week off to regroup
(May 18, 2007)

MPs will take a full week off after one of the most partisan and divisive periods in this Parliament. Read more about this and what's happening in the House in PoliticsWatch's weekly Legislative Update feature.

Tories losing control of Parliament
(May 17, 2007)

Opposition MPs said the Conservative minority Parliament was in trouble and had run out of gas as partisan bickering and filibusters at committees escalated on Thursday.
Sponsorship leak angers MPs
(May 16, 2007)

Government and opposition MPs on the public accounts committee are angry that details of a confidential report on potential perjury by sponsorship scandal witnesses was leaked to the media. Jean Pelletier and Chuck Guite's testimony were among those reviewed.

McGuinty alleges "out of control" Tory MP berated him
(May 16, 2007)

In the latest bizarre incident on Parliament Hill, Liberal MP David McGuinty says an "out of control" Conservative MP left his chair and crossed over to the Liberal side of the House of Commons during question period Wednesday to yell and scream at him for a question he asked.
Stoffer set to host annual All Party Party
(May 15, 2007)

What started off as a hastily organized, non-partisan Christmas party has grown into the social event of the year on Parliament Hill. NDP MP Peter Stoffer tells PoliticsWatch how Wednesday's All Party Party came to be.
Canadian government to close tax loophole
(May 14, 2007)

Finance Minister Jim Flaherty confirmed Monday that Canada will not go ahead with a controversial change to foreign investment rules that would have prevented Canadian companies from deducting interest on foreign investment loans.  Opposition parties are calling the move a flip-flop.
Government MPs kill languages committee
(May 15, 2007)

Opposition MPs are outraged and accusing Prime Minister Stephen Harper of being behind Tory MPs' decision to shut down the official languages committee on Tuesday.
Anarchy in the public service
(May 11, 2007)

A bizarre press conference with a self-proclaimed anarchist on Parliament Hill raises questions about partisanship and the public service. Read more about this and what's happening in the House in PoliticsWatch's weekly Legislative Update feature.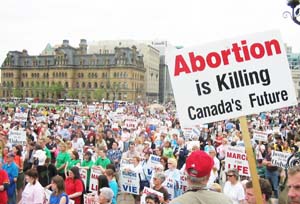 Pro-life movement waiting for leadership from Harper Tories
(May 10, 2007)

Pro-life supporters flooded the front lawn on Parliament Hill Thursday for the annual March for Life. PoliticsWatch spoke with some of the leaders of the pro-life movement.

MPs will vote no- confidence in Tory MP
(May 9, 2007)

Guy Lauzon, a Conservative MP who chairs the Commons official languages committee, will face and lose a vote of no-confidence from opposition committee members next week for his decision to cancel two committee meetings without the committee's knowledge.
Canadian PM comments on foreign takeovers
(May 9, 2007)

Opposition parties continued to pressure Prime Minister Stephen Harper and the Conservative government Wednesday to do something about the latest round of foreign takeover bids for Canadian companies.
Duceppe weighing his options with Boisclair gone
(May 8, 2007)

Saying it was not the time to make a decision, Bloc Quebecois Leader Gilles Duceppe would not discuss his future in Ottawa with reporters on Tuesday after the resignation of Parti Quebecois leader Andre Boisclair.
Opposition MP likens Canadian PM to a dictator
(May 8, 2007)

A Liberal MP is accusing Prime Minister Stephen Harper of running his government like a "dictatorship" after a meeting of the Commons official languages committee was cancelled at the last moment on Tuesday morning.
"I cannot do my job by bicycle" frequent flyer
minister says
(May 7, 2007)

Labour Minister Jean-Pierre Blackburn denied opposition accusations Monday that his office was trying to hide nearly $150,000 in aircraft rental expenses.
Parliament's gross misconduct
(May 4, 2007)

Out of touch Tories and the Parliamentary smear machine were all exposed this week by the Shane Doan controversy. Read more about this and what's happening in the House in PoliticsWatch's weekly Legislative Update feature.


Hockey probe a new low in Canadian politics
(May 3, 2007)

Hey, MPs. Two minutes for looking so useless. Everything that is wrong with Canadian politicians was on display as Hockey Canada officials faced off with members of the Commons official languages committee on Thursday. PoliticsWatch was there as Team Canada captain Shane Doan came under fire.

PM hurting troop morale: Dion
(May 2, 2007)

On the same day Canada's chief of defence staff said the focus on torture allegations of Afghan detainees is angering soldiers, Liberal leader Stephane Dion blamed the prime minister for any problems with troop morale.

MPs crossing the line probing Team Canada captain: Dryden
(May 2, 2007)

The only MP with six Stanley Cup rings weighed in Wednesday in the controversy involving MPs summoning Hockey Canada officials to Parliament Hill to explain the selection of Shane Doan as Team Canada captain.
Jewish groups condemn Green Party leader's Nazi comments
(May 1, 2007)

Two leading Jewish human rights groups criticized Green Party leader Elizabeth May Tuesday for comments she made in a sermon on the weekend comparing Prime Minister Stephen Harper's climate change plan to Nazi appeasement.

Atlantic disaccord in Tory caucus
(May 1, 2007)

Two Atlantic Tory MPs denied reports Tuesday that they will vote against the budget implementation bill because of political pressure in their home provinces.