(PoliticsWatch posted April 12, 2004) OTTAWA - As you walk around the streets of Ottawa these days only one question is on people's minds: Will the Ottawa Senators finally beat the Toronto Maple Leafs in the NHL playoffs?

(Updated: April 26: No)

But if you delve further, you will find a second question: When will Prime Minister Paul Martin call an election so he can obtain the mandate he has talked about so frequently for months?

Well, if you rewind the tape back just a few months ago, today should have been day eight of Decision 2004. The Martin crew and the Liberal MPs worked to push Elections Canada to speed up their implementation of new electoral boundaries, creating seven new seats, four of them in Western Canada.

Martin was supposed to call a vote shortly after those new rules went into effect in early April. April 4 was the day on the calendar that had been discussed since mid-November as the likely election call.

That was before the sponsorship scandal blew up and spun out of control.

After the Liberals' never-before-seen-outside-an-election drop in the polls, many Liberal MPs reportedly tried to convince the PMO to hold off a few weeks on an election call to allow public anger about the scandal to dissipate.

Martin, not one for suicide, agreed and April 4 was scratched.

Two weeks ago, it appeared that April 18 was the new day. The Liberals released a $750,000 TV ad campaign prominently featuring their leader, Liberal MPs on the committee investigating Adscam had cleared the way to get secret testimony of a key figure in the scandal released before he was to appear before the committee in late April, and Martin was feisty in the House of Commons, on the offensive, the very personification of election readiness.

The following day, however, a CROP poll was released showing the Liberals continued to trail the Bloc in Quebec. But even more troubling were numbers showing 61 per cent of Quebecers were dissatisfied with Team Martin and Martin's personal approval ratings at just 38 per cent.

Suddenly, the election date is in doubt. No one appears to know what the date is, and anyone's guess in Ottawa is as good as just about anyone else's.

Based on a reading of some of Ottawa's top reporters and pundits, there may not be an election call until the fall. Some are saying the odds are 50-50 for a fall vote now. Here's a sampling of key spring election call dates and the arguments against going to the polls on those dates and the likelihood of those dates.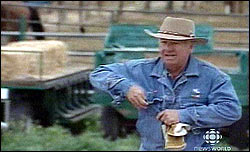 Election called on April 18 for May 25
LIKELIHOOD OF VOTE: 0%

The big argument against: Chuck Guite.

While visiting a Tim Horton's in Smith Falls, Ontario, in early March, the prime minister promised Canadians, "We are not going to the people until sufficient light has been shone on this issue of sponsorship." Without answers from Chuck Guite, who was executive director of the sponsorship program when most of the problems identified in the Auditor General's report occurred, about how $100 million ended up going to a handful of ad firms in commissions or fees for little or no work, anyone following the scandal would not believe any conclusions reached. Guite, who returned to Ottawa from a winter of horseback riding and network camera crew dodging in Arizona last week, is set to testify on April 22 and 23, thus making an April 18 election call unlikely. "I think it's very, very important that the (Commons) committee hear his testimony," said Martin last month.

Other factors: The polls in Quebec.
Updated - April 19: April 18 passed without a writ being dropped. The Guite Factor prevails.


Election called on April 25 for May 31
LIKELIHOOD OF VOTE: 0%

The big argument against: George W. Bush

Last month, the Toronto Star's Susan Delacourt selected this as the "likely" election call date. But that now seems too early as the PMO announced last week that Martin will make his first visit to Washington on April 29 and 30. One would think the NDP would have a field day with Martin beginning his campaign in Washington. Martin describes it another way. "Some time ago, I decided what's important for us is to govern," the PM told a news conference in Rimouski, Que. "So the meeting with President Bush is being organized with that in mind. The election will be held when it needs to be held."

Other factors: "The Quebec numbers are key; we have to keep working to get them up," a senior official said told the Globe last week.
Updated - April 26: April 25 passed without a writ being dropped. The Bush Factor prevails.

Election called on May 2 for June 7
LIKELIHOOD OF VOTE: 0%

The big argument against: Just World War II

June 6 will mark the 60th anniversary of D-Day and the prime minister would be attending ceremonies in Normandy, France, the day before the election. The day after the election is when the G8 Summit in Sea Island, Georgia, begins. Essentially, a June 7 date is sandwiched between two days the prime minister has to be out of the country and on the world stage.

Other factors: June 7 would also mark the 75th birthday of former prime minister John Turner and, according to a recent Toronto Star story, that has "symbolic, even sentimental significance" for key members of Martin's team, who were strong supporters of Turner. He succeeded a long-serving Liberal prime minister only to go down in defeat after being prime minister for a matter of weeks. Not something Team Martin would like to repeat.

Updated - May 3: May 2 passed without a writ being dropped. The D-Day Factor prevails.
Election called on May 9 for June 14
LIKELIHOOD OF VOTE: 0%

The big argument against: G8

Unlike the D-Day commemorations, the G8 Summit runs for three days, and wraps on the 10th. When added to the Normandy celebrations, Martin would be out of the country for five of the last eight days of what could be a tight federal election campaign under this scenario. The 14th is doable, but risky.

Other factors: June 14 is the birth date of David Herle, co-chair of the Liberal election team, reports the Toronto Star.
Updated May 10: May 9 passed without an election call. The Herle Factor prevails.



Election called on May 16 for June 21
LIKELIHOOD OF VOTE: 17%


The big argument against: Quebec … again.

The Globe and Mail and Reuters have both speculated that June 21 looks like the most likely election date before the fall. However, last week the Montreal Gazette reported that June 21 "is not really an option," because the provincial referendum on municipal de-mergers is likely to be scheduled for the day before, June 20.

"That's not something we want to get caught up in," Martin's Quebec lieutenant, Jean Lapierre, told the Gazette. "Besides, most of the people working in the referendum will be Liberals" who essentially would be asked to work on two campaigns at the same time and vote on two consecutive days.

Other factors: June 21 is the 71st birthday of actor Bernie Koppell, who played Doc on the Love Boat. The Martinites may not want to make any connections of any kind to ships for fear of raising the CSL issue at the start of the campaign.
Updated May 18: May 16 passed without an election call. All signs point to May 23 for June 28.



Election called on May 23 for June 28
LIKELIHOOD OF VOTE: 90%

The big argument against: Canada Day

Canada Day is a holiday when many Canadians travel and a June 28 date could conflict with a lot of travel plans and packing. June 28 is also in the summer, a time when voters tend not to like to go to the polls.

Other factors: June 28 is the 44th birthday for former Denver Broncos quarterback John Elway, who was known for having a Hall of Fame career, but came up short in the Super Bowl three times before finally winning right before calling it a career.

Updated - May 4: The Globe and Mail reports, "Mr. Martin is expected to call the election in the next few weeks. Liberal insiders indicated yesterday that June 14 is now virtually ruled out. That date would require Mr. Martin to call an election by Sunday. A June 28 election is viewed as most likely."

As you can see, a number of factors now impede the prime minister from calling a spring vote and a summer vote is traditionally not an ideal setting. In the back of your head you can now hear that song from the 1960s group The Happenings - See You in September. That song will definitely be No. 1 with bullet for members of Martin's Quebec caucus in the coming weeks.

But over on the other side of summer exists a potentially dangerous minefield created by Martin's brain trust way back when a spring election seemed as probable as a senior public servant getting a performance bonus.

In January, a number of controversial issues were "punted" to after the planned spring election.

This includes the decision to add a question to the Supreme Court reference on same-sex marriage. This forced the court to move back its planned spring hearing on the case to October.

The Maher Arar inquiry, which will examine the role of Canada's intelligence agencies in the deportation of a Canadian suspected of being a terrorist to Syria, could keep the Parliamentary Press Gallery busy throughout the usually lazy summer. Late last month, Justice Dennis O'Connor announced he'll hear applications for standing at the inquiry, beginning April 29. Actual testimony is expected to begin June 14.

This is in addition, of course, to what bombshells may come from an additional six weeks of Adscam hearings at the Public Accounts committee. And the judicial inquiry of Justice John Gomery will finally get underway on Sept. 7, just in time to play as background noise for any election pushed after the spring.

Check out these related links:

Martin says his Grits are different


Layton stars in new NDP TV ads


Liberal MPs ready to go to the polls


Martin lampooned in new Tory ads


Listen to the Conservative radio ads


Opposition says bring on election

© PoliticsWatch 2004. All rights reserved. Republication or redistribution of PoliticsWatch content, including by framing, copying, linking or similar means, is expressly prohibited without the prior written consent of Public Interests Research and Communications Inc. PoliticsWatch is registered trademark of PIRCINC.