ElectionWatch: Liberals try to hang on in Canada's North
by Romeo St. Martin
[PoliticsWatch posted 12:45 p.m. December 20, 2005]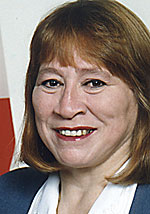 Liberal cabinet minister Ethel-Blondin Andrew came close to losing her seat in the last election.
With the 2006 federal election campaign under way, PoliticsWatch examines the races in all 308 ridings across the country. In the seventh instalment, PoliticsWatch looks at the 3 ridings in Canada's three territories.

Territories

Seats: 3

2004 Seat Results: Lib 3; Con 0; NDP 0

The Liberals held on to their three seats here in the 2004 election. Yukon was the only riding where the incumbent Liberal gained support from the 2000 election. No party has a historical lock on any of the ridings, as all three parties have won in each of the ridings over the past 25 years. Two of the three ridings are represented by female MPs.
Liberals

Solid Seats: 0

Dream Seat Scenario: Lib 3; Con 0; NDP 0

The Liberals hold their three seats..

Nightmare Seat Scenario: NDP 3(+2); Lib 0 (-3); Con 0

Canada's North is painted orange. Ethel Blondin-Andrew fails to hang on in Western Arctic and the NDP reclaims the Yukon seat once held by Audrey McLaughlin and Nunavut.


NDP

Solid Seats: 0

Dream Seat Scenario: NDP 3 (+3); Lib 0 (-3); Con 0

See Liberal nightmare.

Nightmare Seat Scenario: Lib 3; NDP 0; Con 0

See Liberal dream

The Big Picture: The Liberals are looking for their third-consecutive election where they've swept the region. If the election continues to be a close race we could see the PM campaigning up North trying to keep every critical seat. NDP Leader Jack Layton plans to visit the region this week. Interestingly, the Conservatives won all the seats here in 1984 when Brian Mulroney won his record majority, only to lose all three in 1988.
Ridings to Watch (1)

Western Arctic

This riding was the scene of the closest race in the 2004 campaign. Liberal cabinet minister Ethel Blondin-Andrew has represented this riding since 1988, but came within 53 votes of not returning to Parliament in 2004. The 2006 campaign is a rematch between Blondin-Andrew and NDP candidate Dennis Bevington, a former local mayor. Historically, this riding has been a swing riding. The NDP held the riding from 1972 to 1979, the Conservatives from 1979 to 1988.

Analysis: Swing riding the NDP thinks it can win

Not a Sure Thing (1)

Yukon

Liberal MP Larry Bagnell won this riding by just 70 votes in 2000, but managed to increase his margin of victory to 2,500 votes in the 2004 election. The NDP is running Pam Boyde, who finished second to Bagnell in 2004. The NDP is hoping to regain this riding, which was held by former leader Audrey McLaughlin in the late 80s and early 90s. McLaughlin ended a lengthy era of Conservative rule in the territory. Former deputy PM Erik Nielsen represented Yukon for 30 years from 1957 to 1987, winning an incredible 10-consecutive federal elections. The Conservatives finished a distant third in the riding in 2004, with 20 per cent of the vote. Tourism promoter Sue Greetham is running for the party in 2006.

Analysis: Swing riding.

Nunavut

The Liberals have won this riding in the last five elections, dating back to 1988. This is the largest riding in the country with 2.1 million square kilometres of land to campaign around on. Liberal MP Nancy Karetak-Lindell has held the riding in the last three elections. She won 51 per cent of the vote in 2004, and her closest competitor was independent candidate Manitok Thompson, who finished 2,700 votes behind her. However, that margin of victory was 1,200 votes smaller than in 2000. She is up against Conservative David Aglukark and New Democrat Amanda Ford-Rogers. Aglukark is a pastor who is opposed to gay marriage. Karetak-Lindell is reportedly at odds with many of her constituents for her decision to support the government's same-sex marriage bill and her margin of victory is expected to shrink again.

Analysis: Swing Seat held by the Liberals.
:: PoliticsWatch Election Archive
© PoliticsWatch 2004. All rights reserved. Republication or redistribution of PoliticsWatch content, including by framing, copying, linking or similar means, is expressly prohibited without the prior written consent of Public Interests Research and Communications Inc. PoliticsWatch is registered trademark of PIRCINC.