What Gomery read over the summer
by Romeo St. Martin
[PoliticsWatch posted 7:00 p.m. October 14, 2005]
On June 2, former public works minister Alfonso Gagliano left the witness stand at the Montreal phase of the Gomery inquiry, wrapping up nine months of hearings on the controversial sponsorship program.
Almost five months later on November 1, Justice John Gomery will release his report on the sponsorship scandal.

In writing his report, Gomery had to revisit nine months of testimony involving 128 witnesses from some of the top names in Canadian politics, including Prime Minister Paul Martin and former prime minister Jean Chretien.

Many political observers are wondering just how strongly worded and damning Gomery's report will be for the Liberal government.

One only has to recall Gomery's nine months of hearing evidence to remember that Gomery was the one whose jaw would drop the most often when he heard about some of the shadiest deals. It was the judge who would seem most perplexed and most angry when witness' stories didn't make sense logically. And it was Gomery who compared one sponsorship financial transaction to money laundering. The witness agreed with Gomery.

So before Gomery issues his report, PoliticsWatch takes a look back at some of the most interesting details to be heard at the public inquiry into the sponsorship program. This is some of what Justice Gomery read over the summer.

Money to the Liberals

> Testimony and documents from Groupaction president Jean Brault's days in the witness chair show he made over $1.1 million in indirect payments he said were destined to the Liberal party. He said that was facilitated by dramatic overpayments made by the sponsorship contracts he won from the federal government.

> Brault testified he paid Liberal organizers using various channels, including fake invoices for work not done, cash in envelopes or hiring employees who weren't around the office much because they were working for the Liberal campaign. Brault said he quickly discovered that giving money to the Liberal party was "the magic formula" to be lucky in winning deals with the government.

> On the other hand, Brault also testified that when he refused to help out a Liberal lobbyist who had worked for him, he received veiled threats from a Liberal operative about losing his other contracts with Via Rail.

> The former director of the Quebec wing of the federal Liberal party, Benoit Corbeil, testified he paid nine party staff members and officials $50,000 in cash stuffed in envelopes shortly before the 2000 federal election. He said he received the money in yellow envelopes from Brault.

> Nine employees who worked for Lafleur Communications and its affiliates made contributions up to $1,000 to the 1997 election campaign of a Quebec Liberal candidate Yolande Thibault. The employees testified they were later repaid for their donations.

> One ad executive, Gilles-Andre Gosselin, said he was pressured by Brault, who by 1999 owned Gosselin's firm, to donate $10,000 to the Liberal party or see his sponsorship business dry up.

> Bernard Thiboutot, who worked for Brault in Quebec City, testified Groupaction repaid him for two $10,000 donations his company, Commando Communication Marketing, made to the Liberals.

> Thiboutot also testified Brault used another firm to pay $57,000 in 2000 for Commando to pay out $44,000 in invoices for five individuals who were all Liberal organizers. Commando also donated another $2,000 from this $57,000 to a Liberal fundraiser in Quebec. Commando was reimbursed for the donations.

> Television producer Robert Scully, whose company received $11.5 million in sponsorship money, testified that four ad firms that received $350,000 in commissions on one of his projects did no work for the money. He also testified that soon after receiving sponsorship grants he was approached at least a dozen times by persistent Liberal Party fundraisers.

Political Direction

> Chretien appointed then cabinet minister Marcel Masse to head a ministerial working group on the unity file that was to report back at the end of January of 1996.

> A secret document sent to Chretien outlined the working group's recommendations, including the creation of what would later become the Canada Information Office, increasing federal visibility in Quebec and "substantial reinforcement of the organization of the Liberal Party in Quebec." Chretien was questioned about whether he thought it was improper in the context of the strategy to include strengthening the Liberal organization in Quebec.

"Perhaps it should have been discussed elsewhere," Chretien said. "But we have to remember that when you're a minister you must ensure your reelection some day and the party which we were members was in disarray when I became leader in 1990. We can't be angels all the time," he added.

> The man who ran the program in its hey day, Chuck Guite, testified that it was well known in the federal government that contract competitions were being rigged. Guite said that new rules that were put in place by the Liberal government in 1994 to end patronage had little change on the political element in awarding contracts.

"It was politically driven," he said. "The government in power will design a policy to arrive to where it wants to arrive."

> Guite testified that he received political direction on sponsorships from Jean Pelletier, Chretien's former chief of staff, and Gagliano.

> Pelletier testified that Guite would consult with the PMO to get opinions on what was going on in Quebec. "We gave our advice and Mr. Guite arrived with lists," he said. "I never saw anything else but lists. Lists of names of events and amounts requested. I never saw lists where it appeared the name of an agency or a designated intermediary for such and such a file. He would come with sheets of papers, he would sit in front of me in front of my desk and he would ask for our comments and we gave our comments."

> Gilles-André Gosselin, former owner of Gosselin Communications Strategique, told the inquiry that when he started to notice his business with the sponsorship program was declining in 1999, Pierre Tremblay, who had replaced Guite as head of the sponsorship program, told him he should speak to a Gagliano aide, Jean-Marc Bard.

When asked by commission lawyers if he knew what Bard's involvement with the program was Gosselin said, "I had no idea except Pierre Tremblay told me he was the one who ran everything."

Don't get between Corriveau and Chretien
Chretien pal and sponsorship subcontractor Jacques Corriveau billed for work at non-existent Olympic Stadiums across Quebec.
> Jacques Corriveau, owner of Pluri Design and a friend of former prime minister Jean Chretien, is an interesting character in the sponsorship program whose name kept surfacing in the Montreal phase of the hearings.

> Pluri Design earned a total of $11 million over a 10-year period beginning in 1993. From 1995 to 2004, Corriveau himself earned $4.4 million according to documents tabled at the inquiry.

> In his testimony Corriveau downplayed his ties to Chretien, saying he was a friend of the former prime minister but wasn't "close." But Guite said former public works minister David Dingwall told him to "look after" Corriveau. "He (Dingwall) said, 'if you ever find somebody in bed between Jean Chretien and his wife, it'll be Jacques Corriveau,'''

> Corriveau had problems recalling many details while in the witness chair at the Gomery inquiry and blamed his age and the fact he takes "certain prescription drugs and that causes certain problems of memory and concentration. "

> Gagliano told the inquiry that Corriveau received work from the sponsorship program at the same time he was owed "considerable sums of money" for work his firm did for the 1997 Liberal election campaign.

> Corriveau received "many millions in subcontracts" from Le Groupe Polygone Editeurs, A firm that won $40 million in sponsorship work while the program was in existence. Luc Lemay, who gave Corriveau the subcontracts, told the inquiry he paid Corriveau nearly $7 million in commissions over the years for little or no work.

> This included organizing work at non-existent Olympic stadiums in Rimouski, Trois-Rivieres, Chicoutimi, and Sherbrooke - smaller cities that don't have Olympic Stadiums. When Lemay was asked by an inquiry lawyer if there was an Olympic Stadium in Chicoutimi, he replied, "No, not yet."

> Brault said he paid out over $495,475 in fake invoices to Pluri Design. "All the invoices that you will see from Pluri Design to Groupaction or its subsidiaries represent work or services which were not rendered but were paid for," he said, adding that he wasn't even aware of exactly what work kind of work Pluri Design did. He said he knew the money was destined for the Liberal Party because they were for what Corriveau described as "the cause."

Money Laundering

Jean Carle, Chretien's director of operations and later an executive at the Business Development Bank of Canada which was involved in the program, agreed on the stand with Gomery's characterization of one sponsorship deal as similar to "money laundering."

What Did Paul Martin Know?
Prime Minister Paul Martin in the witness chair at the Gomery inquiry.
> Martin testified that while he was aware the federal government was trying to increase its visibility in Quebec after the referendum with ministerial tours and giving away flags, he did not know that the sponsorship of events in the province was part of the government's overall unity strategy until after 2000. Martin testified that before 2001, the administration of sponsorships was never discussed at the weekly meeting of Quebec cabinet ministers, but the government funding of certain events was.

"Didn't it occur to you that there must have been some program?" Gomery asked the PM.

"I think that program is too strong a word to be aware of," Martin said.

> A document released at the inquiry shows a person in Martin's office when he was finance minister intervened on behalf of the group Les Internationaux du Sport de Montréal, which was trying to obtain sponsorship money. Joanne Bouvier, an aide to Gagliano, indicated in a note that: "Paul Martin's office telephoned us to find out why Les Internationaux du Sport de Montreal hasn't had a response to their sponsorship request for $600,000." The funding for the group had been refused. However, government records show the group received a $250,000 grant from the program in 1999-2000 that was handled by the ad firm Groupe Everest.

> Martin sent a letter to Claude Boulay, a former executive with Groupe Everest. "Dear Claude," the then finance minister writes. "The services that you offer could interest my Federal Office of Regional Development for Quebec, for which I am the responsible minister. Your letter has been transferred to my office in Montreal for its information." Inquiry counsel Bernard Roy said the development office later rewarded a $50,000 contract to Everest.

> Testifying at the inquiry, Martin said, "I do not know Mr. Boulay and (his wife) very well. But the fact of the matter is they are active in the Liberal Party. They do have a place in the country about an hour and a half from mine. It would not surprise me at all if at various political or social occasions I would run into them."

> Alain Renaud, who worked as a lobbyist for Groupaction, testified that he overheard a discussion between Martin, Boulay and Boulay's wife, Diane Deslauriers, about Attractions Canada at a Liberal party function. Attractions Canada, a tourism promotion program, cost the government $28 million between 1994 and 2003. Groupe Everest was the agency that handled more than $11 million in sponsorships for Attractions Canada.

"I heard about it at the Convention of the Liberal Party, when Paul Martin and Claude Boulay were together and Mrs. Deslauriers, and they were talking about Attractions Canada. They were talking a lot about it. It was difficult not to listen. I was beside a table, at the convention, eating a sandwich, and it looked very friendly," he said.

> "I can't remember ever having lunch with (Boulay) in government." Martin told reporters after Renaud's testimony. "Directing contracts, intervening in contracts that's just simply not my style of politics. My philosophy has always been that contracts should be subject to open bidding."

> Boulay testified he met weekly with Martin when he worked on his 1993 election campaign. Martin had acknowledged in his testimony that Boulay worked on his 1990 leadership campaign but quit early on reportedly because he wanted to be paid for his involvement. However, the PM never testified about Boulay working on the 1993 campaign. Boulay said he reviewed speeches at meetings that were held once or twice a week, but the two men were never alone and there were always other campaign workers around.

> Deslauriers said she worked on Martin's 1993 campaign and handled phone calls, campaigned door-to-door and performed communications work for Martin during the campaign. Deslauriers also said Martin once had brunch at their home with campaign workers in 1993.

She said she got to know Martin well during the campaign: "People may not know each other at the beginning, but by the end of the campaign, we realize we have become family by the end of the 35 to 40 days.''

The Charming Scamp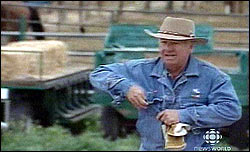 Chuck Guite ran the sponsorship program during its peak years.
> Allan Cutler, who worked under Guite, told the inquiry that backdating advertising contracts was a common practice in Guite's sector at Public Works as early as 1994. "It became very common," Cutler testified. Cutler also testified that improper advance payments to firms and contracts issued with no financial authority were also common practices

> But most Liberals said they weren't aware of who Guite was, even those who associated with him socially. Andre Ouellet, a former cabinet minister who ran Canada Post during the key sponsorship years, testified he met Guite at a corporate box on successive years he attended the Montreal Grand Prix in the late 1990s. But Guite was a bit of a mystery man to Ouellet, who only learned of his job later on. "I knew he was with Public Works," Ouellet said.

> Also in the same box both years was ad man Lafleur, Pelletier and Carle. Guite's name also appears in Ouellet's logbooks on three occasions.

The Luxury Box

> The federal government paid for a corporate box for two seasons at the home rink of the Ottawa Senators as part of its sponsorship deal with the team. Even though the box was listed under Gosselin Communications and the firm's employees were present at all events, Gosselin said the deal for the box was negotiated between the Corel Centre and Guite. For the first season of the sponsorship, Guite was sent all the tickets to the corporate box, Gosselin testified.

> Gosselin said among those who were guests at the Senators games were Liberal cabinet ministers, such as Don Boudria and Alfonso Gagliano, whose department oversaw the sponsorship program.

> In the second year of the sponsorship, the costs were higher as Guite obtained a full corporate box for the federal government. "Mr. Guite was thrilled to have it and exerted pressure to get it," Gosselin testified. The box Guite obtained was the Senators team corporate box the previous season.

> The Gosselin employee in charge of managing the box was an ex-public servant who worked with Guite in the advertising and public relations division of public works, Mario Parent. Parent started work at Gosselin on August 24, 1998, a little more than a month before the start of the NHL season.

> Parent testified that he billed five hours of work at $150 an hour for each Senators game or Corel Centre event he attended. That cost was then charged to the federal government as part of Gosselin's management of the sponsorship. The total bill for Parent alone was $62,100 in the second year of the sponsorship, but that included other work he conducted as part of the sponsorship.

> Parent testified that other Gosselin employees were sometimes given access to the box. The same employees were then asked to fill out a timesheet for the hours they spent at the Corel Centre.

Comfy Fur for Friends

> Andre Ouellet stood by the $2 million in business given to the firm Tremblay Guittet Communications, which was headed by Michele Tremblay. She has been described as friend of Gagliano, whose department oversaw the sponsorship program. Ouellet described Tremblay as a friend and someone he "worked very closely" with when he was in politics. Tremblay Guittet did not do business with Canada Post until Ouellet arrived on the scene at the Crown Corporation in 1996.

> Among the $2 million the firm received from Canada Post was $677,000 for professional fees that were described as "advice to the chair and upper management." The inquiry also heard that Tremblay and her husband, who worked for her firm, accompanied Gagliano and Ouellet on a Canada Post mission to Italy in 1997. Ouellet said she conducted preparatory work for the trip.

Money for Nothin'

> Jean Lafleur was asked repeatedly what work Lafleur Communications did to earn a $154,000 sponsorship commission for the sponsorship of a series on hockey legend Maurice "Rocket" Richard. The series producer, Robert Scully, had earlier testified ad firms did no work for the money as far as he was aware.

> When pressed about what specific work his firm did on the program, Lafleur said members of his staff were at a gala premiere of the series at the Molson Centre to greet people. "I know there was staff on hand to welcome the guests," he said. But the commission wanted more details about what the staff that were present did. "You have no recollection of what your staff did?" asked commission lawyer Guy Cournoyer. "I know that they were in attendance," Lafleur replied.

> The judge also pressed Lafleur to explain exactly what work his firm conducted to receive a $35,000 commission on a $298,000 purchase of promotional items for the government. Lafleur provided a general answer saying it is the role of the advertising agency to ensure quality for the federal government and "make sure that what the client ordered is truly delivered, to verify the quantity and to verify the merchandise that is delivered."

> Government lawyer Sylvain Lussier grilled Lafleur to explain what work was done for the 12 per cent commission Lafleur often charged on sponsorships.

"What does the government obtain for 12 per cent?" Lussier asked Lafleur.

"I respected the contracts of the Government of Canada," he replied.

"What was the work?" the lawyer asked again.

"The work was the know how."

"Know how is not work," Lussier said.

"Does it ever happen to you that you actually answer a question you are asked?" Lussier said later in frustration.

Mutiny on the Bluenose

In the mid-90s Gilles-Andre Gosselin of Gosselin Communications worked on a sponsorship involving the famous schooner the Bluenose, which was touring Canada at the time.

The tour was a complete disaster behind the scenes, according to Gosselin, with one of the ad agencies, Lafleur Communications, pressuring the Bluenose's president and captain to have a large-scale film made about the tour.

According to Gosselin, Lafleur hired a film crew that was pressuring him to convince the Bluenose people to make a film they did not want made. The production crew followed the tour as it headed down the St. Lawrence to Montreal, trying to make a movie. The filmmakers were so persistent, that Gosselin said he had to hire security to keep them away.

And things escalated when Jacques Corriveau boarded the schooner in Montreal and began complaining to the captain of the Bluenose. "You're the one making these visits fail," Gosselin said Corriveau reportedly told the captain. Gosselin did not explain why Corriveau was interested in the Bluenose campaign.

The captain of the ship resigned after his run in with Corriveau. The problems with the Bluenose also angered Guite, according to Gosselin. "Guite was annoyed. He said, 'We should blow that boat up.'"
:: PoliticsWatch Election Archive
© PoliticsWatch 2004. All rights reserved. Republication or redistribution of PoliticsWatch content, including by framing, copying, linking or similar means, is expressly prohibited without the prior written consent of Public Interests Research and Communications Inc. PoliticsWatch is registered trademark of PIRCINC.