Chuck Guite: Up Close and Personnel
by Romeo St. Martin
[PoliticsWatch posted 1:30 p.m. September 23, 2004]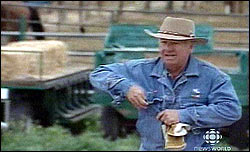 Chuck Guite, the former executive director of the sponsorship program, is confronted by a network camera crew while vacationing in Arizona in March.
OTTAWA — He's one of just three people facing charges in the sponsorship scandal, and the only federal official charged, but government documents released at the Gomery inquiry on Monday paint a very positive picture of Chuck Guite, the former executive director of the sponsorship program.

Last week following revelations out of the Gomery inquiry, the media made much about a 1995 letter written to Ran Quail, the deputy minister of Public Works, from a political staffer to then public works minister David Dingwall recommending Guite lead a review of the government's advertising and public opinion research division in the wake of the Quebec referendum.

But the staffer wasn't alone in his confidence in Guite.

Guite's personnel file from his time in the senior levels of Public Works department shows he repeatedly received positive performance reviews from his superiors and moved up the ladder at a rapid pace, including directing the now controversial sponsorship program from 1997 to 1999.

"Mr. Guite is well respected in this field by staff, peers, clients and the communications community and industry," wrote Quail in a 1998 memo recommending Guite for a reclassification. "He has developed excellent strategic alliances with prime stakeholders and his advice is often sought by the minister's office.

"Mr. Guite possesses the leadership skills required to ensure that his branch meets its objectives and requirements. He has also demonstrated that he has the management attributes, political savoir faire and sensitivity as well as the other qualifications outlined in the attached selection profile which are required for this key position."

In a performance management and feedback report later that year, Quail rated Guite's work as "fully satisfactory" since his promotion.

"On the business side, Chuck has assumed his role as branch head in the department and has effectively developed his new role," Quail wrote. "He has maintained excellent relationships overall, and ensures a surprise-free environment."

While executive director of the government's Advertising and Public Opinion Research Branch in 1992, Guite received a highly positive assessment from his supervisor, Daniel Gagnier.

Guite's overall performance was rated "fully satisfactory (plus)," including high marks for people management, project management and planning. In the only comments on the document, Gagnier recommended Guite could improve his already "superior" client service initiatives score "by attending a program such as the Marketing Management Course offered by Western Business School."

Also included is Guite's curriculum vitae, which shows he is a graduate (with honours) of Algonquin College's business administration program.

For the first seven years of Guite's working life he served in the Air Force with 436 (T) Squadron. Post military, Guite spent a year working for Sears as a client services representative before moving into the federal public service in 1971 working for the National Capital Commission. In 1973, Guite moved to the Unemployment Service Commission and stayed there until 1975 when he started working with Supply and Services Canada, which later became Public Works. Guite would slowly move up the ladder there over the next 24 years.

On March 17, 1999, Guite wrote a letter to Quail informing him he was leaving the department after nearly a quarter century there.

"After careful consideration, I have decided to leave the department on August 31, 1999," he wrote. "This decision has been made taking into account personal commitment that I have made with the private sector since our last discussion."

Quail wrote back on April 12, "It is with regret that I confirm my acceptance of your resignation. Your contribution to the department and to the public service as a whole has been greatly appreciated. You may leave with the knowledge that your efforts have made a difference and you can be proud of your contribution."

In May, Guite and Jean Brault, president of Groupaction Marketing Inc., were charged with six fraud-related counts regarding contracts. Guite has plead not guilty.

Even after the sponsorship program became a major scandal, Quail said he had no complaints about Guite's performance on the job.

At the Public Accounts committee's hearings in May, Quail was asked by Liberal MP Dennis Mills about Guite's job performance.

"During the time he reported to me, I would have also taken into consideration any comments that I had from outside, in particular from the minister's office. I had no complaints," Quail testified.

© PoliticsWatch® 2004. All rights reserved. Republication or redistribution of PoliticsWatch content, including by framing, copying, linking or similar means, is expressly prohibited without the prior written consent of Public Interests Research and Communications Inc. (PIRCINC). PoliticsWatch is registered trademark of PIRCINC.