Harper goes global
by Romeo St. Martin
[PoliticsWatch posted 5:40 p.m. July 11, 2006]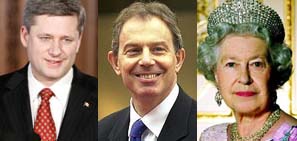 Prime Minister Stephen Harper kicks off a six-day foreign trip this week with a meeting British PM Tony Blair and Queen Elizabeth.
OTTAWA — Canada's prime minister will make his first appearance on the world stage beginning this week.

Prime Minister Stephen Harper is set to leave Ottawa on Thursday for a six-day foreign visit that will take him to London, St. Petersburg and France.

While in St. Petersburg, Harper will attend his first G8 conference and meet for the first time most of the leaders of the Western world.

Harper has only made one overseas trips since being elected in January -- a surprise visit to Canadian troops serving in Afghanistan.

"The prime minister will have the opportunity to continue the high-level exchanges that he has been having with world leaders who play a key role in terms of shaping the global agenda," a senior government official told reporters at a technical briefing in Ottawa last week.

Harper has already met U.S. President George W. Bush twice since the election and he recently hosted Japanese Prime Minister Junichiro Koizumi in Ottawa.

Harper has yet to meet French President Jacques Chirac, German Chancellor Angela Merkel, Italian Prime Minister Romano Prodi and Russian President Vladimir Putin.

On Friday, Harper will make a stopover in London where he meets British Prime Minister Tony Blair at 10 Downing Street for a "tête-a-tête."

"The is a very important visit because of the closeness of our relations with the British, but also it's important because the UK is one of our most important trade and investment partners," said Guy Saint-Jacques, Canada's acting high commissioner to the UK.

The two leaders will also exchange views on the fight against terrorism, Afghanistan and other international issues such as Iran, North Korea and Africa.

Immediately following his meeting with Blair, Harper will travel to Buckingham Palace where he and Laureen Harper will have a private audience with Queen Elizabeth II.

Harper will also deliver a speech to a dinner organized by the Canada-UK Chamber of Commerce and the Canada Club in London.

The prime minister will then spend three days at the G8 Summit being hosted by Russia in St. Petersburg.

While what government officials describe as "regional issues," such as North Korea and Iran, will be part of the leaders' discussions, the focus of this year's summit is on energy security.

Government officials say Canada will play a key role in those discussions because it and Russia are the only G8 net exporters of energy.

"It's important that Canada as an exporter be very active in shaping the approach that the G8 leaders will endorse on the energy side," said a senior government official.

Canada will also indicate that nuclear energy is "part of the inevitable suite of capacities" that the world has to meet future energy demands.

"Where nuclear energy fits in is how are we collectively going to manage the expansion of the nuclear requirement for civil energy while at the same time dealing with the issue of nuclear waste and proliferation," the official added.

Infectious diseases and education and innovation are also official summit agenda items.

The PM also may have a bilateral meeting with Putin during the summit.

After the G8 Summit, the PM will spend Tuesday in France.

Harper will lay a wreath at the Canadian National Vimy Memorial Site. Vimy Ridge was the scene of one of the greatest battles of World War I. An estimated 3,600 Canadian soldiers were killed in four days in April of 1917, in a battle that many believe was Canada's coming of age.

The PM and Mrs. Harper will also take a guided tour of the Grange tunnels, which the allied forces built in the weeks prior to the surprise assault on Vimy Ridge.

The PM will then travel to Paris where he will have a one-hour meeting with French Prime Minister Dominique De Villepin.
© PoliticsWatch® 2006. All rights reserved. Republication or redistribution of PoliticsWatch content, including by framing, copying, linking or similar means, is expressly prohibited without the prior written consent of Public Interests Research and Communications Inc. (PIRCINC). PoliticsWatch is registered trademark of PIRCINC.