Harper's polling numbers: Honeymoon or trend?
by Romeo St. Martin
[PoliticsWatch posted 5:45 p.m. May 23, 2006]
Prime Minister Stephen Harper's government stands at 43 per cent in the latest opinion poll.
OTTAWA — Conservatives were happy to pick up the morning paper Tuesday to find the results of the latest Ipsos Reid poll for Global News showing their party now in majority territory.

The latest poll shows the Conservatives sitting at 43 per cent in the polls, theoretically enough to give them a majority.

They are also 18 points ahead of the leaderless Liberal party .

The Tories won the January election with 36 per cent support.

So has Canada captured Harpermania as many of the headlines that appeared on the front pages of newspapers would lead you to believe? Or perhaps is this just a natural honeymoon with voters.
Former prime minister Paul Martin's early polling numbers were skewed by Adscam.
PoliticsWatch went back 17 years to look at how Brian Mulroney, Jean Chretien and Paul Martin were doing in the polls shortly after being sworn in.

Harper's performance in the Ipsos poll is on par with how Mulroney was performing just months after the 1988 election, but far lower than Chretien months after the 1993 election and even lower than Martin's until Adscam took over.
Former prime minister Jean Chretien was at 58 per cent months after the 1993 election.
Perhaps nobody in recent Canadian political history suffered the reversal of fortune that Martin did within months of being sworn in December 2003.

An Environics poll published on January 9, 2004, showed Martin to be one of the most popular political figures since polling numbers were kept.

"As Paul Martin starts his long-anticipated tenure as Canada's newest Prime Minister, he and his party enjoy an unprecedented honeymoon with Canadians, based on a recent survey by the Environics Research Group," the polling firm said at the time.

"In his first few weeks in office, Paul Martin is far and away the most popular federal politician in the country. Six in ten (60%) Canadians name him as the party leader best able to lead the country. This is the highest level recorded for any federal party leader since Environics began tracking this question in 1986. "

As for party preference, the Liberals were polling as high as 48 per cent in early 2004 but that all changed after the auditor general tabled her report on the sponsorship program in mid-February.

An Ipsos poll for the Globe and Mail published on March 9, 2004, showed the Liberals were down to 38 per cent. So Martin's three-month polling mark is lower than Harper's by five points, but with a big asterick.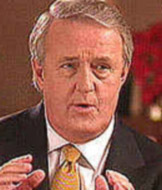 Former prime minister Brian Mulroney's numbers were similar to Harper's months after the free trade election.
Although he had a majority government, Jean Chretien faced a situation similar to Harper's in that the former sitting prime minister was no longer the leader of the opposition.

A poll conducted by Gallup on February 17, 1994, just four months after Chretien was elected, showed the Liberals at 58 per cent in the polls, roughly 15 per cent ahead of where Harper is now.

Chretien's government had polled at 57 and 56 per cent in January and December respectively.

Some in Ottawa say Harper is modelling his government on that of Brian Mulroney, including giving scrums from the stairs outside the House chamber.

There is also a similarity in their polling numbers three months after the election as Mulroney's post 1988 free-trade election numbers almost mirror those of Harper.

A Gallup poll published February 16, 1989, just three months after the 1988 election showed the Tories at 43 per cent popular support compared to the 31 per cent for the Liberals.

However, Harper's polling numbers are on the rise whereas Mulroney's numbers were beginning to decline. A January 1989 Gallup poll had the Conservatives at 48 per cent just two months after they won their second majority government.
© PoliticsWatch® 2006. All rights reserved. Republication or redistribution of PoliticsWatch content, including by framing, copying, linking or similar means, is expressly prohibited without the prior written consent of Public Interests Research and Communications Inc. (PIRCINC). PoliticsWatch is registered trademark of PIRCINC.