Political Web Cams
MP Entrance


The MP Entrance is on the west side of the Centre Block.

Look to the lower left of the Centre Block on the live image from Parliament Hill in Ottawa.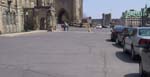 When Canada's House of Commons is in session, this area is a hot bed of activity, with MPs, Ministers, public servants and staffers coming and going.


Parliament of Canada


Today in the House


Today in Committees


Today's Releases from the Government of Canada


Parliamentary Calendar


Political Party Caucuses and Executives

PoliticsWatch.com
---
---
Political Web Cams
These are live images being transmitted online from web cams in democratic capitals across the globe, including Ottawa, Canada; London, UK; and Washington, DC. Be sure to refresh your browser to get the most recent live image.
Parliament Hill, Ottawa, Canada

Big Ben, London, UK

Metro Square, Washington, D.C.
If you know of other active web cams showing government buildings in other democratic capitals, let PoliticsWatch know. Please send your political web cam suggestions to News@PoliticsWatch.com
Political Web Cams, another first for
PoliticsWatch.com - Canada's Political Portal