Martin proposes handgun ban
by Romeo St. Martin
[PoliticsWatch Updated 4:30 p.m. December 8, 2005]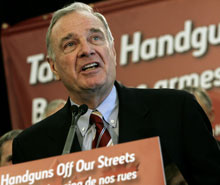 Prime Minister Paul Martin at a campaign event in Toronto.
OTTAWA — Prime Minister Paul Martin said Thursday he will ban all handguns in Canada if re-elected.

Martin made the sweeping promise while campaigning in Toronto, the scene of 50 murders involving handguns this year.

"The issue is how do you deal with handguns? And there's only one way to deal with it. That is to choke off the supply of the handguns that are killing our youth," the PM said.
"Guns are not property. Guns are items used to kill people and they are banned and they will be banned."

Canada currently has tough restrictions on handguns, limiting them largely to target shooters and gun collectors. All handguns have to be registered.

Under Martin's proposal, legitimate target shooters who meet requirements would be eligible for an exemption to the handgun ban, meaning that the ban would only affect collectors.

Martin said theft from collectors is the "largest single source" of handgun supply in Canada.

"They either come from the United States or they've been stolen from collectors," Martin said.

Martin's plan would also double the mandatory minimum sentence for committing a crime with a handgun from one year to two years.

The announcement appears to be an attempt to create a campaign wedge issue between the Liberals and the Conservatives.

The Conservatives have been the only party in the House of Commons to strongly advocate against the long gun registry.

"I've got to say that the banning of handguns is a value issues, it certainly is for me," Martin said.

Conservative Leader Stephen Harper's response was to release a statement saying that he was a supporter of gun control.

"We need to rid our country of illegal guns, that's why I support tough gun control," Harper said. "In fact, our party implemented most of the current gun laws. The Conservative Party will do everything necessary to make sure guns stay out of the hands of criminals."

Harper, however, said legal handguns are not the problem, but the flow of illegal guns into the country are.

Harper's war room, meanwhile, pointed to statistics from the Canadian Centre for Justice Statistics that say 84 per cent of homicides were committed with unregistered firearms.

NDP Leader Jack Layton said he was skeptical because the Liberals have had 12 years to take action on the hand gun issue.

However, he said he was supportive of banning handguns.

"As you know, I have said for many, many years that handguns have no place in cities. And if we're finally starting to see some action on it we'll take a look at what's proposed."
© PoliticsWatch® 2005. All rights reserved. Republication or redistribution of PoliticsWatch content, including by framing, copying, linking or similar means, is expressly prohibited without the prior written consent of Public Interests Research and Communications Inc. (PIRCINC). PoliticsWatch is registered trademark of PIRCINC.