Brian Mulroney on ....

by Romeo St. Martin

[PoliticsWatch updated 4:50 p.m., September 11, 2007]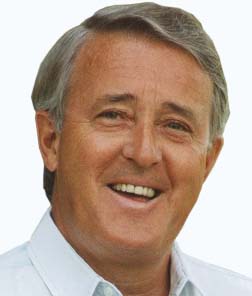 Former Prime Minister Brian Mulroney's much-anticipated Memoirs went on sale on Monday.
OTTAWA — The Right Honourable Brian Mulroney assails his rivals and praises his friends in his new book.

Memoirs (1939 to 1993), published by Douglas Gibson Books, went on sale on Monday and has quickly become a best seller.

While much of the media attention has focused on his comments about former prime minister Pierre Trudeau and former Quebec premier Lucien Bouchard, Mulroney also offers his opinions on many of his contemporaries through personal journal entries and comments in the 1,152-page book.

PoliticsWatch provides highlights of some of these comments.

Prime Minister Stephen Harper

Because Memoirs ends in 1993, there is little direct comment about the current prime minister, who was a Hill staffer for backbench Conservative and Reform MPs during the Mulroney-era. Mulroney does praise Harper for naming his former deputy chief of staff, Senator Marjory LeBreton, government leader in the Senate, calling it an "excellent decision."

Former prime minister Paul Martin

In his book, Mulroney credits himself with convincing Martin to turn down a job at the United Nations to stay on at Power Corp. in the early 1970s. He refers to Martin as someone he had "come to know and like."

However, as a politician, Mulroney's early analysis of Martin the MP in a personal journal entry dated April 17, 1989 sounds like many media commentators assessing Martin after election night in 2006.

"Paul has not done well in his brief time here, in large measure I believe because expectations were so unrealistically high about him," Mulroney wrote. "He is a nice, quite gentle individual who may turn out to be a wonderful neighbour but an unsuccessful politician."

Former prime minister Jean Chretien

About a year before the 1990 Liberal leadership campaign, Mulroney anticipated in one of his journal entries that Chretien would be the winner and feared that his "populist approach" would give the Liberals a short-term boost in the polls.

"Chretien is a man of some considerable charm and certain political advantages," Mulroney noted. "His disadvantages include intellectual insolence and a considerable measure of vanity. These, combined with habitual Liberal arrogance, could cause him serious difficulties."

Mulroney, however, incorrectly predicted in a 1993 journal entry that the U.S. election victory of the mid 40s Bill Clinton and Al Gore would have a negative impact on the national leadership ambitions of a 59-year-old Chretien.
Former prime minister Kim Campbell

Mulroney's assessment of Campbell's abilities as his successor are anything but kind.

"I am confident in saying this: the PC Party would have been left with a hell of a lot more than two seats had it been me facing off against Jean Chretien in October 1993," Mulroney writes.

On Campbell's leadership speech to the 1993 PC leadership convention, Mulroney said she sounded like "an accountant before the Rotary."

U.S. Senator Hillary Clinton

In his memoirs, Mulroney recounts his first visit to the Clinton White House in 1993 where Bill Clinton informed him that he would appoint First Lady Hillary Clinton to head a panel to examine U.S. health care.

While Mulroney called Mrs. Clinton the "brightest and ablest" to study the issue, he correctly recommended Clinton reconsider his decision.

"She'll become the target of personal attacks from all the special interests. So if we were in Canada I'd say, 'Don't do it,'" he recalls telling the president.

Former Vice President Al Gore

Mulroney proudly notes in his book that during the 1992 Rio Earth Summit Al Gore was quite pleased that Mulroney recommended to then U.S. president George Bush that he read Gore's environmental book Earth In the Balance.

Liberal leader Stephane Dion

The current Liberal leader's recent comments in Policy Options magazine are used as expert testimony by Mulroney to bolster his argument in favour of the Meech Lake Accord and against Trudeau's opposition.

"The worst constitutional error in the history of Canada is probably Mr. Trudeau's campaign against Meech," Mulroney quotes Stephane Dion as saying. "Mr. Trudeau was wrong in saying that Meech would destroy Canada."

Dion also said in the interview that if Meech had passed Chretien would never have recruited him to bolster federalism after the 1995 referendum and he would still be a university professor today instead of being in politics.

Former Liberal cabinet minister Jim Peterson

Despite being a Conservative icon, Mulroney mentions his friendships with a number of Liberals, including recently retired cabinet minister Jim Peterson.

"Jim Peterson is a rare specimen in the Liberal party and indeed in federal politics: a truly happy warrior who supports his party without denigrating his opponents, and who doesn't have an ounce of malice or vindictiveness in his soul," Mulroney wrote.

Mulroney came into contact with Peterson in Montreal shortly after the 1968 election and later hosted his going away party that was attended by big name Liberals, such as Paul Martin, Jim Coutts, David Peterson and John Rae.

Parliamentary Press Gallery

With the notable exception of columnists Hugh Winsor and the late Don McGillivray, who Mulroney calls "the older and sedentary types," the former prime minister does not single out many Parliamentary Press Gallery reporters in Memoirs.

This is a complete departure from Peter C. Newman's Secret Mulroney Tapes, where Mulroney's scathing opinions are offered on numerous journalistic household names -- Richard Gwyn a Liberal "propagandist," and Winsor "useless, absolutely useless."

Nonetheless, his battle with the Parliamentary Press Gallery is given in detail and reads like a playbook for Harper's current media strategy. But unlike Harper, who waged war with the gallery early on, Mulroney took knocks for a few years before boycotting the National Press Theatre in 1987.

In February of 1990, Mulroney held his first press conference in three years at the National Press Theatre and wrote about it and his battle with the gallery in a journal entry.

"For a while, the gallery thought I would return on bended knee and sent me summary resolutions reminding me of my obligations to 'openness' and 'respect for freedom of the press,' all of which I discarded," Mulroney wrote.

"What eventually got to them, however, was their realization that they had deprived themselves of regular exposure to the head of government, thereby doing a substantial disservice to their readers/viewers and serious damage to their own reputations."
© PoliticsWatch® 2007. All rights reserved. Republication or redistribution of PoliticsWatch content, including by framing, copying, linking or similar means, is expressly prohibited without the prior written consent of Public Interests Research and Communications Inc. (PIRCINC). PoliticsWatch is registered trademark of PIRCINC.