Seniors group denies being leaked info
by Romeo St. Martin
[PoliticsWatch Updated 6:30 p.m. December 8, 2005]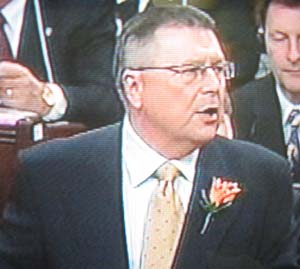 Finance Minister Ralph Goodale was asked to resign by the Conservatives on Thursday.
OTTAWA — A seniors group is denying a CTV News report that it was given advance knowledge about Finance Minister Ralph Goodale's announcement related to income trusts,

"There is no truth to the serious accusations that CARP had inside information about Minister Ralph Goodale's announcement
regarding Income Trusts," the organization said in a news release Thursday.

"In fact, the political crossfire regarding who knew
what, when and how about the minister's announcement has created the false allegation that there was a leak to CARP.

"The record must be set straight! At no time was CARP given an indication
by the Minister's office of when the announcement would be made or what it
would say."

Goodale's November announcement to lower the tax on dividend yielding stocks and keep in place the tax free status of income trusts has been the subject of allegations of insider trading by opposition parties and some Bay Street watchers.

On the day Goodale announced the changes there was a notable spike in the volume of a number of dividend-paying stocks and income trusts before the decision was made public when the market was closed.

Goodale has vehemently denied for two weeks that there was a leak of information from his office.

On Wednesday, CTV News reported a representative for the seniors group the Canadian Association for the Fifty Plus said he received a phone call from an advisor in Goodale's office about the information before Goodale made it public.
"The day they made the announcement they phoned us and said something is going to be said," CARP's William Gleberzon was quoted as saying on CTV's Website. "They said something was going to be announced later in the day."

The strange thing is that Gleberzon's name is now attached to the press release issued by CARP denying it received information on the timing of the announcement. The denial is creating quite a stir in the conservative blogosphere.

Meanwhile, Conservative finance critic Monte Solberg called on Goodale to resign Thursday after the CTV News story aired.  

Solberg said CTV story has "completely contradicted" Goodale's denials.

"CARP said they received a call from his office," he said in a statement. "The only honourable thing to do is to step aside while the RCMP investigates this matter.

The RCMP is currently reviewing whether to conduct a full investigation into the insider trading allegations.

Asked about Solberg's call for Goodale's resignation on the campaign trail, Prime Minister Paul Martin scoffed at the question from the reporter.

"The fact is that this is the knee jerk reaction of an opposition MP that basically doesn't want to deal the debate in a rational way," the PM said in Toronto.

"The fact is Mr. Goodale has said that there was not a leak from his department."

Martin said Goodale and his department would cooperate with any investigation by authorities.

Layton questions Canada's role in Afghanistan

NDP Leader Jack Layton said Thursday he is opposed to Canada committing more troops to fight the Taliban and Al-Qaeada in Afghanistan "at this time."

On Thursday, NATO foreign ministers approved a plan to raise its 9,000 peacekeeping force in Afghanistan to some 15,000 troops.

Canada, Britain and the Netherlands are expected to take the lead next year in an expansion of troops in the country's dangerous southern region.

"We appear to be drifting from our original mission there - which was to provide security in the capital region - and into a combat role side-by-side with American troops," Layton said.

"We must not drift into a war blindly or secretly, on the say-so of one man."

Layton said the prime minister must spell out what Canada's goals and commitments will be under the NATO changes.

"We then require a real national debate, and a clear democratic decision taken by Parliament."

Canada currently has 2,000 troops participating in Afghanistan.
© PoliticsWatch® 2005. All rights reserved. Republication or redistribution of PoliticsWatch content, including by framing, copying, linking or similar means, is expressly prohibited without the prior written consent of Public Interests Research and Communications Inc. (PIRCINC). PoliticsWatch is registered trademark of PIRCINC.