Guite's secret testimony to be released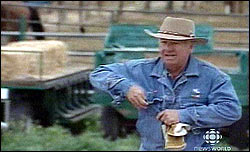 (PoliticsWatch posted April 1, 2004) OTTAWA - The Liberal majority on the Commons Public Accounts committee has approved making the closed-door testimony of one of the key witnesses in the sponsorship scandal public.

The 2002 testimony of Chuck Guite, who was the executive director of the sponsorship program, was released after nearly four hours of acrimonious opposition debate and filibustering. House of Commons staff is now translating Guite's testimony before making it public.

All three opposition parties were opposed to releasing the testimony, which is related to just three Groupaction files. They allege Liberals will use this testimony in lieu of an appearance before the committee in an interim report that would allow the prime minister to say enough light has been shone on the scandal and call an election.

Word around Parliament Hill this week is that the prime minister will call an election on April 18 for May 25. And Guite is not expected to testify until April 22.

But today the prime minister said that he is interested in hearing what Guite has to say.

"I think it's very, very important that the committee hear his testimony," the PM said in Vancouver. "The release of the testimony … could be used as a basis for questioning, but I think that the committee should hear his testimony."

In the House of Commons this afternoon, Conservative Leader Stephen Harper asked Deputy Prime Minister Anne McLellan point blank if the government will guarantee it would not call an election before Guite testifies.

"I think I have been absolutely clear, we on this side of the House look forward to Mr. Guite's testimony on April 22," she responded.

"Well, we all look forward to Mr. Guite's testimony," replied Harper. "The question is whether we'll ever get a chance to hear it. So let's be absolutely clear: Is the government guaranteeing to us that there will not be an election call and that we will be here and the press and the public will hear in person the testimony of Mr. Guite before a federal election is called?"

McLellan then stated that Mr. Guite is scheduled to appear before the committee on April 22 and the government looks forward to hearing from him.

However, in the acrimonious arguments at the committee earlier in the day, MPs from all parties were doubting they will ever hear from Guite.

"Mr. Guite will never come here to testify," said Conservative MP Vic Toews. "That's the Liberal scam."

The Liberal MPs were disciplined during the filibuster by the opposition, not interjecting. They also made sure that their two-seat majority on the committee was kept at all times. Liberal MP John Harvard acted as a designated seat warmer, taking the place of opposition MPs who occasionally left the committee room.

Again, today PMO staff was on hand at the hearings, raising opposition suspicion that the Liberals on the committee were following the orders from the top.

"I know they have marching orders from the PMO," said Conservative MP Diane Ablonczy. "I've seen them with their memos and their whispers in their ears."

Some Liberals took exception with that characterization.

Speaking with reporters later, committee vice chair Marlene Jennings said, "Let me tell the viewers, nobody gives Marlene Jennings marching orders. My parents had a difficult time doing it when I was growing up. My husband certainly doesn't attempt to do it.

"No one gives me marching orders. I said what I believe."

The committee will resume hearings next week and hopes to hear from witnesses again.

Check out these related links:



Public Accounts Sponsorship Hearings

© PoliticsWatch 2004. All rights reserved. Republication or redistribution of PoliticsWatch content, including by framing, copying, linking or similar means, is expressly prohibited without the prior written consent of Public Interests Research and Communications Inc. PoliticsWatch is registered trademark of PIRCINC.