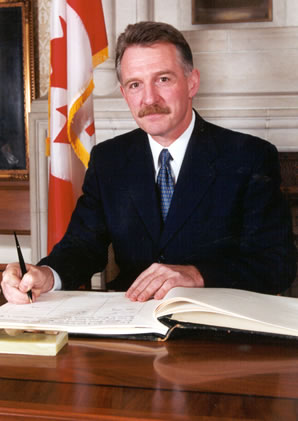 (PoliticsWatch posted February 27, 2004) OTTAWA - A Conservative MP wants the Commons public accounts committee to have all publicly available evidence related to the sponsorship hearings posted on the committee's website so people across the country can view it for themselves.

Tory MP Gerald Keddy, who is an associate member of the committee, yesterday requested that committee chair John Williams make all documents, including hundreds of pages of recently released cabinet documents, available on the site.

"Certainly these documents we have now are public documents," Keddy said in an interview with PoliticsWatch. "The media already has accessibility to them, so why shouldn't the general public have accessibility to them?

"I certainly intend to continue to push that point."

The committee's current website only contains minutes and transcripts from recent committee meetings.

In a rare act of cooperation with each other, Prime Minister Paul Martin and former prime minister Jean Chretien recently made the extraordinary decision to have all cabinet documents related to the sponsorship program made public. Cabinet documents are usually sealed for 30 years.

"As far as this government is concerned, we are prepared to be totally open, totally transparent," the PM said at the time.

Already, the release of the documents have unearthed some interesting findings. These include:

-Chrétien personally took three requests to cabinet between 1996 and 1999 for permission to spend $61.8 million on federal sponsorship activities, citing the near loss of the 1995 referendum in Quebec.

-Chretien personally approved $1.8 million worth of projects for Via Rail, including $1.3 million for a "cultural exchange."

-And former public works minister Alfonso Gagliano gave the sponsorship program a glowing endorsement in 2001, a year after a second damning internal audit suggested otherwise.

Keddy cited the recent example in the U.K. of the Hutton inquiry, which was probing the circumstances surrounding the death of David Kelly, a British scientist who was later found to be the source of a BBC story incorrectly suggesting that the Blair government exaggerated the case for war in Iraq.

The Hutton inquiry has its own website, complete with FAQ's, hearing transcripts and evidence. This includes thousands of documents - including hundreds of cabinet office letters, notes, minutes, briefings and emails. Hutton's evidence is so thorough, that even documents which are classified or not for release are listed.

Keddy wants the public accounts committee to be as thorough as Hutton.

"Everything that's public information is accessible to the public now, but a lot of it is only through Access to Information," he said. "So I'd give it all to them.

"The government's talked about a new era of accessibility, correcting the imbalance in democracy and what better way to start."

Keddy's recommendation was taken to the committee's steering committee for further consideration.

"We're trying to see if it's feasible to put them on the website," said committee chair John Williams of the recently released cabinet documents.

"I understand it's very, very expensive to put them on the website. So we're seeing what can be done. So that's not a commitment, but we're seeing what can be done.

"But they are available in print form."

Check out these related links:

Hutton Inquiry Web Site


Public Accounts Committee: Minutes and Evidence

"There was no slush fund"


Tories target PMO in Adscam


PM plays down ties to ad exec


Martin launches counteroffensive


MPs want to focus on other issues


"We have nothing to hide"


Cabinet ministers targeted in QP


"The Liberal Party is not corrupt"


PM doesn't remember letter


Sponsorship firm gave to ministers


Martin shifts spin


PM's timeline


PM blames small group of people


PM says he did not sign ad cheques (Feb. 10)


Letter links ad contracts to Grits


Keeping track of the scandal du jour

© PoliticsWatch 2004. All rights reserved. Republication or redistribution of PoliticsWatch content, including by framing, copying, linking or similar means, is expressly prohibited without the prior written consent of Public Interests Research and Communications Inc. PoliticsWatch is registered trademark of PIRCINC.