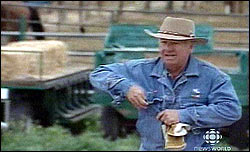 (PoliticsWatch posted March 12, 2004) OTTAWA - MPs reacted with some degree of amazement today to a front-page Ottawa Citizen story suggesting that one of the central figures in Adscam once acted as a whistleblower on the awarding of contracts by officials in the department of finance.

Chuck Guite, who was executive director of the Communication Co-ordination and Services Branch that oversaw the sponsorship program, criticized senior officials in Paul Martin's finance department in 1995 for handing out lucrative contracts without a competitive bidding process.

According to the Citizen "insiders close to the contracting issue" said a "significant majority" of those deals went to the Earnscliffe Strategy Group, a well-known firm with ties to the current PM and his campaign team.

"Mr. Martin's officials were ordered to a meeting of senior Privy Council and Treasury Board officials and told to stop the practice," the Citizen reported.

The Citizen also obtained a transcript of an interview that Guite gave to CTV News in 1995 in which he revealed that contracts were being given to polling and communications advice without competition and compared the finance officials' behaviour to drivers knowingly breaking the speed limit.

On May 12, 1994, then public works minister David Dingwall unveiled guidelines that spelled out that government contracts for polling and advertising would be publicly tendered, with a loophole that allowed cabinet minister discretion to hand out contracts to companies of their choice in urgent situations or when national interest requires secrecy.

At the time, Guite was in charge of government advertising at APORS. Yesterday, a public works employee, Allan Cutler, testified that in November of 1994, less than a year after the new rules were announced, Guite gave direction to staff in the contracting group at Public Works that "normal rules and regulations should not apply to advertising."

In question period, the opposition used this latest revelation to tie Martin and his staff to the growing Adscam.

"The prime minister said he knew nothing about Adscam until 2002," said Conservative MP Leon Benoit. "The truth is, in 1995 he was told by Treasury Board, of which he was vice-chair by the way, to stop breaking the rules in awarding contracts."

Finance Minister Ralph Goodale defended the PM in the House and said that the finance department disputed the allegations made by Guite back in 1995 and it continues to dispute them to this day.

Goodale himself was recently criticized in a Toronto Star editorial for hiring Elly Alboim, a partner at Earnscliffe on a contract valued up to $20,000 for strategic budget communications advice.

"Given (finance's) army of writers, communicators and spin doctors, Alboim is not only an unnecessary add-on, he represents an unnecessary cost," the paper said.

Outside the House, MPs were somewhat confused by a central figure in alleged advertising rule breaking blowing the whistle on other alleged rule breaking.

"It's an interesting development, isn't it?" said NDP MP Pat Martin, who added that he wouldn't describe Guite as a conventional whistleblower.

"He's a selective whistleblower if anything because if you're willing to overlook some atrocities and yet blow the whistle on others when it's to your advantage, he doesn't earn my respect."

Conservative MP Peter MacKay said it was hard to reconcile how Guite was pointing the finger at finance officials on the one hand and is now the central figure in Adscam.

"It's an anomaly, it's a contradiction, it doesn't square with the evidence that's adduced already. Mr. Guite has a lot to answer for, there is no question."

Guite has been formally asked to appear before the Commons committee investigating the scandal. He is currently a snowbird in Arizona and cannot be compelled to appear before the committee. His lawyer has said that Guite plans to cooperate.

The link to finance officials was the second in as many days. Yesterday, documents tabled before the committee by Cutler created a link between two Martin aides and a contract awarded to Groupe Everest in 1996.

That contract contained a $900,000 amendment that Cutler wrote in a memo that he was opposed to because Groupe Everest "will presumably obtain a commission on the sub-contract without having done any work."

The Conservatives continued to raise that issue in the House today, suggesting that the Martin aides were not acting alone.

"Ministerial staff does not freelance," said Conservative MP Vic Toews. "Ministerial staff follows orders.

"How can this prime minister continue to deny that he knew nothing about the funnelling of tax dollars into Liberal pockets when his right hand and his left hand, his most trusted advisers, (Karl) Littler and (Terrie) O'Leary had their fingerprints all over this scandal?"

Check out these related links:

PM in Adscam: Tories


Ad problems began in 1994


We know where the bodies are buried: MP


"What a weasel, Mr. Speaker"


Ads, scams and birthday videotape


PM denies Gagliano pre-judged


Adscam was not on board's radar


Deputy minister points to the top


MP wants all evidence on Web


"There was no slush fund"


Tories target PMO in Adscam


PM plays down ties to ad exec


Martin launches counteroffensive


MPs want to focus on other issues


"We have nothing to hide"


Cabinet ministers targeted in QP


"The Liberal Party is not corrupt"


PM doesn't remember letter


Sponsorship firm gave to ministers


Martin shifts spin


PM's timeline


PM blames small group of people


PM says he did not sign ad cheques (Feb. 10)


Letter links ad contracts to Grits


Keeping track of the scandal du jour

© PoliticsWatch 2004. All rights reserved. Republication or redistribution of PoliticsWatch content, including by framing, copying, linking or similar means, is expressly prohibited without the prior written consent of Public Interests Research and Communications Inc. PoliticsWatch is registered trademark of PIRCINC.