Guite testimony released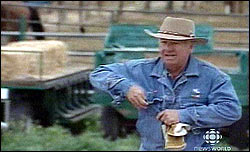 (PoliticsWatch posted April 2, 2004) OTTAWA - In secret testimony from 2002, Chuck Guite, the executive director of the sponsorship program, justified his lack of proper record keeping and favouratism to a handful of Liberal-friendly Quebec ad firms because he felt the country was at war with Quebec separatists and any information about advertising purchases could fall into the hands of the enemy separatists.

The testimony of Guite, who is scheduled to testify before the committee later this month, is a mixture of not disclosing conversations he had with politicians and their staff, but at the same time suggesting he was not under direction.

"I will decline today to answer any question that relate to discussions that I may have had with ministers," Guite said in his brief opening statement. "It will require ministerial authorization for me to disclose any discussions I've had with ministers prior to answer any questions that will deal with discussions with ministers."

Guite would use the cloak of confidentiality not to answer questions about whether he was ever contacted by officials in the Prime Minister's Office.

And he also extended that cloak to include refusal to answer questions about conversations he had with ministerial staff.

"My umbrella, Mr. Chairman, is very clear. If any discussions I've had--I'll give you two examples--if I had a discussion with the Minister of Public Works, or his staff, that falls under my initial statement."

But Guite confirmed that he met regularly with the ministers, including former public works minister Alfonso Gagliano, and deputy minister Ranald Quail - "Sometimes, once a week. Sometimes, twice a week. Sometimes, three times a week."

Last month, Gagliano testified meeting Guite just three or four times a year. In Quail's testimony, he suggested that Guite had a direct relationship with the minister and was out of the loop, but Guite contradicted that and said Quail was involved in the sponsorship program.

"I would say most of the time he knew what events we were sponsoring because he would get a list of the events that we were sponsoring."

When asked by Liberal MP Shawn Murphy if he was responsible for the "mess" related to the Groupaction files, Guite said, "Yes."

"There's no one else that you're pointing the finger at?" Murphy followed.

"No."

He also testified that no one ever recommended using Groupaction to him. According to Guite, the ad agencies that were used in the sponsorship program were the five that were selected in a private tender process at the request of the Federal-Provincial Relations Office before the Quebec referendum. Guite continued to use those companies after the referendum until he left in 1999.

"Based on the results that Groupaction had provided to us during the referendum, I decided that was the best firm to be able to advise me on where we should be present, at what event, what visibility we should have.

"Obviously, we were not going to broadcast our plan and our strategy through a public tendering process and, in fact, having some information on file that could be available to the opposition."

At one point then-PC MP Peter MacKay mocks Guite's rationale for using the ad firms.

"You're attributing your work and the handing out of contracts for hundreds of thousands of dollars for advertising to saving the country, that's what you're telling us?"

"You want to believe it. You want to believe it," responded Guite.

"I see. So it was done, it was a war that you were in, and we should just take your word for it that what you did was justified?"

"Look at the results," Guite answered.

MacKay then asked Guite what information he received that was so top secret that its release could risk the future of the country?

"Who was going to be there, what type of crowds were going to attend, was the Government of Quebec going to be present, who were the other sponsors who were at the event," explained Guite. "It could be anybody from Hydro Québec to any other, Casino and so forth, quasi-government organizations in Quebec. It was very important for me to know who's going to be at those events."

Later, Guite explained his battle plan.

"I guess it's in camera so it'll come out in three years, but that' s fine. I, personally, with the funding we had through FPRO and the Government of Canada to fight the referendum, bought every billboard in Quebec and every outdoor advertising that was available. Okay?

"I phoned the guys in Montreal, the media people, and I said, 'What's your inventory?' They said, 'Oh, it's about $8-million worth of outdoor advertising that's available.' I said, 'I'll buy it.' And the guy at the other end of the phone said, 'Pardon me?' I said, 'I'll buy it.'

"So we plastered the Province of Quebec with government ads that were legitimate government programs."

At one point during the questioning, NDP MP Pat Martin told Guite there was a growing body of evidence suggesting that there was an overcharging of work or work not being dong by the ad firms so that the companies could "bank credits to be recouped at a later date or pay off services during the 1997 federal election in Quebec.

"Do you have any knowledge of that?"

"Any political things, I decline to answer any comments on the politics, I'm not involved in politics," Guite said.

And according to Guite, he was not breaking government rules, but bending them.

"Contrary to the Auditor General's comment, every rule in the book was not broken," Guite said, while Auditor General Sheila Fraser sat next to him in the in-camera hearing.

"I have to be careful here the term I use--and to follow a bit of the guidelines that exist in the rules, but I may have to, for a better term, bend them a little bit, because, as you all can understand, we were basically at war trying to save the country."

When Guite was asked who advised him to "bend" the rules, he said, "That was my decision."

Alliance MP Philip Mayfield then asks Guite, "You had no consultations with your deputy minister, with your minister, with other officials from the PMO?"

To which Guite responds, "Based on my initial comment, I decline to go any further on that question."

Guite would only discuss contracts related to Groupaction in his testimony. When asked by then Liberal MP John Bryden about internal audits in the Public Works department, Guite said, "No, we're not going to discuss any other contract but the Groupaction contract."

He said the decision not to have documents on file was his decision.

"Nobody instructed me not to put documents on file or not to put certain information on file. I decided that."

Check out these related links:



Public Accounts Sponsorship Hearings

© PoliticsWatch 2004. All rights reserved. Republication or redistribution of PoliticsWatch content, including by framing, copying, linking or similar means, is expressly prohibited without the prior written consent of Public Interests Research and Communications Inc. PoliticsWatch is registered trademark of PIRCINC.