Tories want Liberal MP to apologize for U.S. terrorism comment
by Romeo St. Martin
[PoliticsWatch Updated 5:00 p.m. October 26, 2004]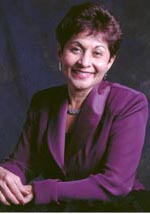 Rookie Liberal MP Yasmin Ratansi.
OTTAWA — The Conservatives are calling on Prime Minister Paul Martin to have a rookie Liberal MP apologize for comments she made in a newspaper interview suggesting the terrorism problem is a result of U.S. policy.

In a profile in the Ottawa Citizen this week, Liberal MP Yasmin Ratansi, who is Canada's first female, Muslim MP, said the U.S. government's actions have fuelled anti-Americanism and terrorism.

"Who wrought this terrorism?" she asked in the Citizen interview. "Where did they come from? They are the result of the policies of the United States. They have been interfering in the world."
Ratansi said in the interview that she is not anti-American and would say the same thing about "any imperialistic power that tries to influence another country and creates chaos in that country."

Conservative foreign affairs critic Stockwell Day described Ratansi's comments as "beyond outrageous" and "absolutely inexcusable." He said the prime minister should take action.

"He should reel this person in and demand a very clear apology in no uncertain terms and as soon as possible," said Day after question period on Tuesday. "However, I don't have my hopes up very high that he's going to do that."

Day said Ratansi's comments are "insulting in the worse degree" and are "part of a pattern that the prime minister allows to happen of trashing our neighbours and doing nothing about it."

Liberal MP Carolyn Parrish recently got into hot water for a second time in just over a year for comments construed as anti-American when she characterized the coalition of countries supporting the U.S. missile defence program as a "coalition of idiots."

Martin demanded Parrish apologize - twice publicly and once in a phone call -- but she refused and was never sanctioned by the PM, who needs every vote he can get in a minority Parliament.

NDP Leader Jack Layton said he had not seen Ratansi's comments but said it "seems to be a ridiculously simplistic linkage."

During question period, Conservative MP James Bezan asked Foreign Affairs Minister Pierre Pettigrew: "Why does the Prime Minister continue to tolerate these damaging anti-American outbursts and why do Liberals blame the victim when it comes to terrorism?"

Pettigrew did not directly answer the question, but outlined Canada's commitment to combat global terrorism.

"This government and our country, Canada, has embarked into the fight against terrorism very closely," he said. "The deputy prime minister is doing an outstanding job of making sure that we are squarely on side to fight terrorism in Canada and internationally, and we shall continue to do so. We are in the fight against terrorism."

The day after the September 11, 2001 attacks on the World Trade Centre and the Pentagon, former Iraqi President Saddam Hussein blamed the "evil policy" of the United States for what happened.

``Regardless of...human feelings on what happened yesterday, America is
reaping thorns sown by its rulers in the world,'' the Iraqi News Agency
(INA) quoted Hussein as saying at the time.

In the interview with the Citizen, Ratansi also blasted Al-Qaeda leader Osama bin Laden, accusing him of abusing Islam to justify the killing of others.

"There is nothing in our scriptures that talk about killing anybody," she said, adding that bin Laden and his operatives are not real Muslims.

"They are absolutely not Muslim because they do not adhere to the fundamental beliefs that are in the Koran - tolerance, peace, diversity, pluralism, respect for life."
© PoliticsWatch® 2004. All rights reserved. Republication or redistribution of PoliticsWatch content, including by framing, copying, linking or similar means, is expressly prohibited without the prior written consent of Public Interests Research and Communications Inc. (PIRCINC). PoliticsWatch is registered trademark of PIRCINC.