Parliament can stop Schreiber extradition: MP
Romeo St. Martin
Politics Watch ® News Services
November 20, 2007, updated 5:00 p.m.
http://www.politicswatch.com/schreiber-november20-2007.htm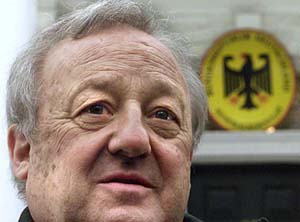 German businessman Karlheinz Schreiber faces extradition within days.
OTTAWA (PoliticsWatch.com) — The man at the centre of an upcoming public inquiry about the business dealings of former prime minister Brian Mulroney may avoid extradition to Germany if he is called to testify before Parliament.

Liberal MP Paul Szabo, who is the chair of the Commons access to information, privacy and ethics committee, told reporters Tuesday that Parliament has the power to delay Karlheinz Schreiber's extradition to Germany.

Szabo's committee is considering whether or not to launch its own investigation of the former prime minister's dealings with Schreiber. Schreiber is currently in a Toronto jail cell and is facing extradition next week to Germany where he is wanted on a series of charges.

Szabo said he has already discussed with House legal counsel the possibility of bringing Schreiber before the committee.

He said he has been told the committee can summon Schreiber and delay his extradition if it obtains a "Speaker's warrant," which informs the federal justice minister, Ontario attorney general and the RCMP about Parliament's interest in hearing from a witness.

"If that happens, then Mr. Schreiber cannot be extradited until he has satisfied the Parliamentary requirement," Szabo said in response to a question from PoliticsWatch.com. "Should the justice minister proceed (with extradition) after having been given notice of the Speaker's warrant ... he would be in contempt of Parliament."

Schreiber has already said in interviews that if he is deported to Germany he will not cooperate with any investigation in Canada.

The only requirement for Parliament to obtain a warrant for Schreiber is for a committee to be holding a proceeding that would require him as a witness. Szabo said obtaining the warrant is "certainly doable very quickly."

However, there are now questions about whether or not an investigation of the Schreiber-Mulroney matter is within the scope of the access to information, privacy and ethics committee.

At a committee meeting on Tuesday, Szabo told MPs that the committee's clerk has informed him that four opposition motions dealing with investigating the Schreiber-Mulroney affair may be out of order.

That frustrated NDP MP Pat Martin, who had planned to bring forward his motion calling for Schreiber and Mulroney to appear before the committee as early as this week.

After much procedural wrangling, Szabo adjourned the meeting before the issue was resolved, prompting Martin to slam his pencil on the desk. Martin rose from his seat to confront Szabo and angrily accused him of stalling the committee's investigation.

"You're a disgrace, a disgrace," Martin said to Szabo. "That's it. You're done."

Martin quickly exited the committee room and refused to talk to reporters.

"We got screwed, that's what happened," he said as he left.

Szabo's ruling also angered Bloc MPs on the committee.

"You have no right to stop a meeting when no decision was taken," Bloc MP Michel Guimond told Szabo.

After question period, a calmer Martin accused Szabo of "sabotaging" the committee to prevent it from investigating Schreiber's time in Ottawa.

"I can only surmise the Liberals don't want Mr. Schreiber (at the committee) because they don't want to hear what he has to say about other wheels of commerce he may have been greasing over the years in Ottawa," he said.

The Liberals on the committee have a motion to investigate the Schreiber-Mulroney affair, but it is only in the context of whether the current Conservative government was involved in covering up Schreiber's allegations.

Szabo said he will issue his decision on whether the committee has the authority to probe the matter at the start of Thursday's committee meeting.
© Politics Watch News Services 2007. All rights reserved. Republication or redistribution of Politics Watch content, including by framing, copying, linking or similar means, is expressly prohibited without the prior written consent of Public Interests Research and Communications Inc (PIRCINC). Fees and charges may be applicable for the copying and or redistribution of Politics Watch content. Politics Watch ® is registered trademark of PIRCINC.