Mulroney's do-not-call list
Romeo St. Martin
Politics Watch ® News Services
November 12, 2007, updated 5:45 p.m.
http://www.politicswatch.com/mulroney-november12-2007.htm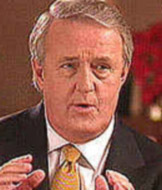 Former prime minister Brian Mulroney.
OTTAWA (PoliticsWatch.com) — Having a former prime minister on your speed dial is something those currently on Parliament Hill should be proud of.

Not so any more.

In what is an unprecedented move, Prime Minister Stephen Harper has deemed former prime minister Brian Mulroney a social outcast in Conservative circles and ordered Ottawa Tories to not have any contact with him until a cloud of scandal is lifted.

"I think it will be incumbent upon myself and also upon members of the government not to have dealings with Mr. Mulroney until this issue is resolved," Harper told reporters at a press conference last week.

At that same press conference Harper announced he will name an independent third party to review the latest cash-payment allegations made against Mulroney.

On Thursday, German businessman Karlheinz Schreiber filed an affidavit in an Ontario court that alleges an agreement to later transfer $300,000 in cash to Mulroney was made in June of 1993 while he was still prime minister.

None of Schreiber's allegations have been proven in court, but Harper believed the allegations were serious enough to merit further review because they "touch on the former prime minister's time in office."

Harper's shunning of Mulroney is especially surprising given how Harper, one of the key architects of the Reform Party, has embraced him since being elected prime minister.

In April of this year, Ottawa's Chateau Laurier hotel hosted two events on the same evening. One event was in honour of Mulroney's 1991 recognition of Ukrainian independence. The other event was hosted by former Reform Party leader Preston Manning's conservative think tank.

It didn't go unnoticed that Harper made a brief appearance to pose for pictures at Manning's event, while he delivered a compliment-laced speech at Mulroney's gala.

"I am delighted to be here with you this evening to pay tribute to a man who is increasingly recognized for all his achievements as prime minister," Harper said in his speech.

Harper went on to praise Mulroney for his strong stand against communism during the Cold War and supporting those working for free societies in the former Soviet bloc.

"Today they are free people living in free nations," Harper said. "And they are grateful to the strong Western leaders who stood firm against the communists and their apologists. Leaders like Ronald Reagan, Margaret Thatcher, (Pope) John-Paul the Second, and Brian Mulroney."

Harper's rhetoric that evening makes his sudden ostracizing even more puzzling.

Would George W. Bush tell Republicans to stay away from, say, Ronald Reagan if he were alive today because of the unproven allegations of an arms dealer who is in the process of being extradited to Germany?

Unfortunately for Mulroney, his renaissance as elder statesman and advisor has been short lived and was taken away by one man in one sentence at a one press conference.

How much of an impact Harper's decree will have in Ottawa is not clear.

The vast majority of the current Conservative caucus were Reformers who are unlikely to have been Mulroney fans to begin with, let alone in close contact with the former PM.

Labour Minister Jean-Pierre Blackburn was an MP in Mulroney's caucus from 1984 to 1993. Justice Minister Rob Nicholson and Veterans Affairs Minister Greg Thompson were in Mulroney's caucus from 1988 to 1993.

It is not believed that either of these ministers have had regular contact with Mulroney since he left politics. Of the three, only Nicholson merits any mention in Mulroney's recently published memoirs -- Mulroney quotes from a letter he sent to Nicholson to minimize his concerns about voter anger about the introduction of the GST.

Defence Minister Peter MacKay's father served in cabinet with Mulroney and the defence minister speaks to the former PM "regularly," according to the Globe and Mail.

The real impact of Harper's ban on Mulroney will be felt in the Senate. Marjory LeBreton, the Government Leader in the Senate, was appointed to the Senate by Mulroney in 1993 after years of service in his PMO.

She is considered probably Mulroney's closest friend currently on Parliament Hill, who is reported to have daily contact with him. If mentions in Mr. Mulroney's memoirs are any indication, LeBreton played a bigger role in his years as prime minister than some of his cabinet ministers.

Senator Hugh Segal also has close ties to the former PM, having served for a time as his chief of staff. Canada's ambassador to the U.S., Michael Wilson, is also considered a member of the Mulroney camp, having served as his finance minister.

Whether or not they obey Harper's orders and cut off contact with Mulroney is not known. For now, though, the prime minister has ordered them to put Mulroney on their do-not-call list.
© Politics Watch News Services 2007. All rights reserved. Republication or redistribution of Politics Watch content, including by framing, copying, linking or similar means, is expressly prohibited without the prior written consent of Public Interests Research and Communications Inc (PIRCINC). Fees and charges may be applicable for the copying and or redistribution of Politics Watch content. Politics Watch ® is registered trademark of PIRCINC.