Harper announces review of allegations against Mulroney
Romeo St. Martin
Politics Watch ® News Services
November 9, 2007, updated 5:45 p.m.
http://www.politicswatch.com/mulroney-november9-2007.htm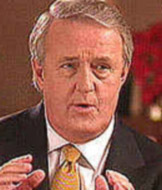 Former prime minister Brian Mulroney.
OTTAWA (PoliticsWatch.com) — Prime Minister Stephen Harper announced Friday the federal government will seek an independent third party to review the latest allegations made against former prime minister Brian Mulroney.

Harper said the latest allegations needed further review because they touch upon a period in time when Mulroney was in office.

On Thursday, German businessman Karlheinz Schreiber filed an affidavit in an Ontario court that alleges an agreement to later transfer $300,000 in cash to Mulroney was made in June of 1993 while he was still prime minister.

None of Schreiber's allegations have been proven in court and he remains in jail awaiting extradition to Germany where he faces charges.

Schreiber's affidavit also alleges that in 2006 he gave a letter to Mulroney to later present to Harper at a meeting at Harrington Lake.

"At the special request of Mr. Mulroney, I wrote a letter to him on July 20, 2006 suggesting to Mr. Mulroney that the public rhetoric regarding the sale of Airbus planes by Airbus Industries G.I.E. (the `Airbus Affair') and the conspiracy against me personally amounted to the largest political scandal in the history of Canada," Schreiber's affidavit states.

"I wrote the July 20, 2006 letter at the request of Mr. Mulroney because he told me that he was going to meet with The Right Honourable Stephen Harper, the current Prime Minister of Canada, by the end of July, 2006 at Harrington Lake, and that he was going to show that he and I were on good terms."

Harper confirmed he met with Mulroney at Harrington Lake in the summer of 2006, but denied the former prime minister brought up Schreiber.

"We did not discuss Mr. Mulroney's dealings with Mr. Schreiber during that visit, nor did Mr. Mulroney present a letter from Mr. Schreiber," Harper said.

"In fact, Mr. Mulroney has never spoken to me on behalf of Mr. Schreiber, nor has he presented me with any documents from Mr. Schreiber."

Harper told reporters that he did not discuss his decision to launch a review of the allegations with Mulroney. In fact, Harper said he is advising members of his own party to keep their distance from the former Conservative prime minister.

"I think it will be incumbent upon myself and upon members of the government not to have dealings with Mr. Mulroney until this issue is resolved."

The decision to further examine the allegations against Mulroney comes exactly a week after the prime minister said that it would be "dangerous" for him to launch an investigation of a former prime minister.

For the past two weeks, the opposition parties have been calling for Harper to launch a public inquiry into the matter.

On Friday, the prime minister said the government would examine recommendations made by the third-party probe and would not rule out the possibility of holding a public inquiry.

"We can't ignore the allegation,'' Harper said. " We always have to protect the office of the prime minister.''
© Politics Watch News Services 2007. All rights reserved. Republication or redistribution of Politics Watch content, including by framing, copying, linking or similar means, is expressly prohibited without the prior written consent of Public Interests Research and Communications Inc (PIRCINC). Fees and charges may be applicable for the copying and or redistribution of Politics Watch content. Politics Watch ® is registered trademark of PIRCINC.