Pro-life movement waiting for leadership from Harper Conservatives
by Romeo St. Martin
[PoliticsWatch updated 5:05 p.m. May 10, 2007]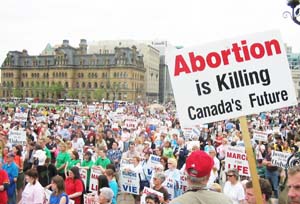 A large crowd attends Thursday's 2007 March for Life on Parliament Hill.
OTTAWA — Organizers estimate that over 6,000 protestors were on Parliament Hill on Thursday for the 2007 March for Life rally.

While there were over a dozen backbench MPs from both the Liberals and the Conservative caucus who spoke to the crowd, not a single cabinet minister was in attendance and Prime Minister Stephen Harper's name was not mentioned once in a single speech by his MPs.

In the U.S., similar pro-life rallies attract big name Republican politicians and even taped messages from U.S. President George W. Bush, but the Canadian movement is not so fortunate when it comes to getting high-profile Conservative support.

Harper was more than willing to attach his name and speak out in favour of keeping the traditional definition of marriage, but on the abortion issue the PM is muted and seems to want to keep his caucus that way inside of the House of Commons.

"Pro-life people are pretty confused because if they've got an individual candidate that's pro-life they'll vote for him in most cases," Jim Hughes, national president of Campaign Life Coalition, said in an interview with PoliticsWatch. "But they would love to have a party to vote for."

Harper has been portrayed by the opposition parties and numerous pundits as a Bush clone and a social conservative, but his few comments on the abortion issue over the years show him closer to the opposite side of the so-called religious right.

After going through the 2004 election campaign having to deny Liberal allegations of a "hidden agenda," Harper and the Conservatives wanted to use the 2005 Tory policy convention in Montreal to outline clear positions on such issues to blunt Liberal attacks.

After some procedural wrangling, the party agreed to vote on the abortion issue at the convention. But the night before the vote, many pro-lifers felt Harper put a bullet in their motion when he said in a speech to delegates "a new Conservative government will not initiate or support any effort to pass legislation restricting abortion in Canada."

During the dying days of the 2006 election campaign, Harper was adamant to put to rest Liberal allegations of Conservative MPs affecting a woman's right to choose.

Harper drew a line in the sand and made it absolutely crystal clear that there'd be no backbench MPs going around him and the party's position.

Speaking to reporters in Quebec City on January 27, Harper said not only would his government not introduce or support abortion legislation but that as prime minister he would "use whatever influence I have in Parliament to be sure that such a matter doesn't come to a vote."

"Mr. Harper is not pro-life," Hughes told PoliticsWatch. "When Mr. Harper sees that there's a constituency here that can help him to retain power or to gain more power only then will he act, in my opinion."

"Mr. Harper made a promise before the election that this issue will not come up in Parliament, would not come up for a vote. So I think all of the Conservatives have been told, 'Don't bring forward any more pro-life legislation.'"

One example of this was a private member's bill put forward by Tory MP Leon Benoit.

Bill C-291 would have made it a separate criminal offence to harm an unborn child in cases where a pregnant mother is assaulted or murdered. A similar law exists in California where Scott Peterson faced double murder charges for the deaths of his wife Laci and their unborn child.

However, Benoit's bill was later deemed non-votable by a parliamentary subcommittee after a recommendation from the Justice minister that it was unconstitutional.

Liberal MP Paul Steckle also has a private member's bill that has yet to reach the floor of the Commons. Steckle's bill is aimed at banning late-term abortions after 20 weeks of pregnancy.

Steckle says his bill and Benoit's are "reasonable" measures that should be discussed and debated and what happened to Benoit's bill was "despicable."

"It's a disgrace to us as politicians that we would take that kind of view," he said.

While Steckle was reluctant to comment on how the leadership of the Conservative party deals with its MPs on abortion, Steckle said that he feels like he is free to speak his mind in the Liberal caucus.

"The Liberal party is a fairly open minded party, more left than I find myself agreeing with, but for the most part I'm allowed to come out here today. There's nobody monitoring if I come out here today and what I say."

Several Tory MPs were in attendance at the rally, including Saskatchewan MP Maurice Vellacott.

In an interview with PoliticsWatch, Vellacott said the pro-life movement is aware that the Conservative government will not bring forward legislation, but that doesn't mean MPs are powerless.

"(Harper) said the government will not be bringing anything forward, which does not preclude the fact that on a private member's basis reasonable initiatives coming forward," he said.

Vellacott said support for women who are considering abortions and health and educational supports are "things that can and should be done in terms of public policy issues."

When asked why party leaders are afraid to touch the abortion issue, Vellacott said, "We'll you'll have ask them. I can't speak for the leader of the party. I can speak for Maurice Vellacott."

Also at Thursday's rally was former MP Pat O'Brien, who left the Liberal party two years ago to sit as an independent because of his government's support of legislation recognizing gay marriage.

O'Brien spends his time now working as a political consultant for Campaign Life Coalition and the Knights of Columbus. In the last election campaign, he was a member of a group that endorsed pro-marriage candidates.

"I think the reality is in Canada there's a lack of political will in all parties at the top levels to take this on because it's a political hot potato," O'Brien said in an interview with PoliticsWatch.

He said a good start would be for the prime minister to take a "principled" stand on the issue.

"I think we need to have clearer statements from Mr. Harper on where he stands on some of these issues, like abortion. It's not enough to remain silent and I think his stance has been more or less silence.

"It can be interpreted that he's pro-choice. Some like to interpret that he's pro-life. But he never comes out and makes those clear definitive statements."

O'Brien said Harper and other leaders will not be able to sit on the fence forever and hope the abortion issue does not surface on the political landscape.

"It's going to surface. We are going to make sure in the pro-life movement that it surfaces."
© PoliticsWatch® 2007. All rights reserved. Republication or redistribution of PoliticsWatch content, including by framing, copying, linking or similar means, is expressly prohibited without the prior written consent of Public Interests Research and Communications Inc. (PIRCINC). PoliticsWatch is registered trademark of PIRCINC.