Harper proves critics wrong
by Romeo St. Martin
[PoliticsWatch Updated 2:00 a.m. January 24, 2006]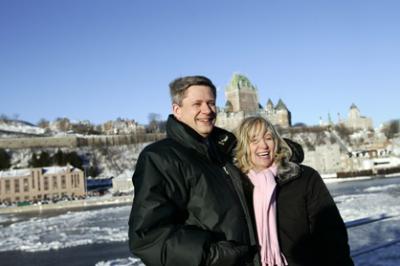 Stephen and Laureen Harper on the campaign trail in Quebec City.
OTTAWA — Stephen Harper has had his ups and downs.

But even before this election was called an objective observer would have to say there were really more ups than downs.

Harper's rise to power was rapid.

To put things in perspective, Harper was a mere legislative assistant to an opposition MP in 1989, when a large chunk of the existing press gallery on the Hill was going after the Mulroney Tories.

Now he's the next prime minister and those same reporters will be going after him.

But unfortunately had Harper lost this election, his legacy would have been that of a man who could not connect or appeal with Canadians. Just like Robert Stanfield, but with fewer admirers in the media.

And everyone would have remembered the downs.

It would have overshadowed the work he had done in just four years upon returning on the federal scene.

In that short time, Harper won the leadership of a divided Canadian Alliance party, and put it back together as a strong opposition party in the House. He then organized talks within weeks after Peter MacKay won the leadership of the PC Party that led to the uniting of the two conservative parties. Harper then won the leadership of that party, including delegates in Ontario, against two Ontarians -- Tony Clement and Belinda Stronach.

In a short amount of time, Harper had a major hand to play in making Canada a functioning democracy again where an opposition party could win power from the Liberals.

Even if he had lost this election and had left politics, he would have made his mark.

In the weeks and days leading up to this election, Harper was openly criticized as an unelectable by the so-called experts in Ottawa -- none of whom have ever been elected prime minister -- and many of whom had predicted Paul Martin would rule Canada for 10 to 12 years.

Here's a look at the top five expert quotes about Harper in just the last year.

Belinda Stronach said Harper didn't understand the complexities of Canada.
"I regret to say that I do not believe the party leader is truly sensitive to the needs of each part of the country and just how big and complex Canada really is."

Belinda Stronach, May 17, 2005
_______

"The time has come for Stephen Harper to stop dreaming that his destiny is 24 Sussex Drive. That day will only come if one of its residents invites him over because they are looking for a stick-in-the-mud dinner guest.

"Harper did a good thing (as Martha would say) in engineering the merger and in doing so, has made a valuable contribution to the conservative cause in Canada. However, the Canadian electorate is finished with him. they have made up their minds and have spoken in poll after poll. For him to stay now merely adds insult to the injuries and further damages the conservative franchise in this country.

"If Harper does not recognize this and move on, the electorate will be finished with us too and the CPC will not survive."

A Toronto Conservative Party member, Carol Jamieson, whose opposition to Harper was the focus of a number of Globe and Mail stories over the summer.
_____
"Stephen Harper is now typecast, fairly or not, as the grim reaper of Canadian politics. But there is not enough will among the party's rank and file to drive him out. The party doesn't need that kind of bloodbath. The only hope for a change would be if the leader, for the good of the team, voluntarily resigned and called a leadership convention for January.

"These reservations aside, however, Peter MacKay is still clearly, as Liberals themselves attest, the Conservatives' best hope against Paul Martin.

"Stephen Harper might do well to think about this, and recall the time the Nova Scotian cleared the decks for him."
Lawrence Martin, Globe and Mail columnist, October 6, 2005
__________

Former prime minister Kim Campbell
"Their (the Conservative party's) positions are too socially conservative, I think, to form a government in Canada. People may like their fiscal policies but they're frightened by their social conservatism…It's a pity because it denies people a choice on policy issues."

Former Prime Minister Kim Campbell, December 1, 2005
__________

"In short, disorganization and inexperience at the very top of the Tory team -- and a destructive disdain for the media -- has all the ingredients to make Harper's campaign of hope hopeless by Jan. 23.

"This week, the media following Harper officially nicknamed his campaign plane (okay, it was my idea): 'Mister Happy's Flying Circus.'"
"No way to run a country."
Greg Weston, Sun Media, December 4, 2005
© PoliticsWatch® 2005. All rights reserved. Republication or redistribution of PoliticsWatch content, including by framing, copying, linking or similar means, is expressly prohibited without the prior written consent of Public Interests Research and Communications Inc. (PIRCINC). PoliticsWatch is registered trademark of PIRCINC.